When worlds collide and upset the path of order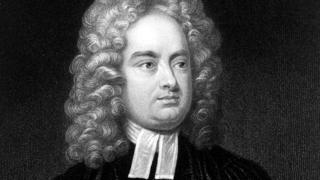 Argument persists to this day over the import of Jonathan Swift's poem "The Lady's Dressing Room".
To qualify that comment, argument persists in very limited, literary circles. I still recall one of my English tutors at St Andrews repeating lines from the poem with evident, ironic relish. Ok, one notorious line in particular.
I hold to the view that Dean Swift was seeking to contrast raw physical reality and human shortcomings with absolute ideals. (Human, note, not solely female. As is evident from his other work.) That, in short, he meant, mostly, well.
He meant to explain, rather than repel. As he did in Gulliver - think Book Four and the Yahoos - and in essays like A Modest Proposal, however shocking the content.
In much the same way - although generally without such extremes - contemporary politicians seek to pursue the path of order as they tiptoe through the by-ways of flawed humanity.
These and other random musings came to me as I contemplated two very different stories today in the news cycle.
Firstly, the resignation of Stewart Hosie as deputy leader of the SNP following the disclosure that he had engaged in an affair. Secondly, the implementation of new powers for the Scottish Parliament.
Politics can seem to be about process, about imposing a grid upon the customary chaos of everyday existence. Such is pre-eminently the case with those new, carefully negotiated powers. But, from time to time, subterranean chaos breaks through.
When such occurs, the two worlds coincide. It did last week when Nicola Sturgeon was re-elected by Holyrood as First Minister. The vote done, Ms Sturgeon hugged her friend and Cabinet colleague Shona Robison, who was sitting next to her.
Public and private
Standard fare - except that Shona Robison is Mr Hosie's wife. She had been sitting throughout proceedings, looking sadly and uncomfortably numb. The hug, therefore, combined congratulation and consolation in one. Two worlds coinciding.
Today Ms Sturgeon continues her work as First Minister, having perceptibly shrunk the political problem posed by Mr Hosie's behaviour by accepting his resignation as her party deputy.
She begins the task of working with those new Holyrood powers. Today she is delivering a speech on the subject of the EU referendum. Politics, process. Always, though, at her back she will hear the lurching, grinding cart bearing screech of scandal.
For the FM, however, this immediate issue will fade fairly swiftly. For Ms Robison, such will not be so easily the case. She has to live in the structured, political world - while dealing with the rough, sandpaper reality of close human failing.
Mr Hosie, presumably, will be engaged in discourse with his own conscience.