New chief scientific adviser appointed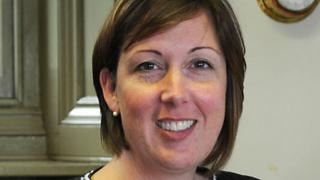 The Scottish government has appointed Prof Sheila Rowan of the University of Glasgow as the country's new chief scientific adviser (CSA).
The post had been vacant since December 2014, when Prof Muffy Calder stepped down.
Prof Rowan, an expert on gravitational waves, is the country's third female CSA.
She will be responsible for providing independent scientific advice to government ministers.
Her appointment was confirmed by Deputy First Minister John Swinney during a visit to the University of Glasgow.
'Superb role model'
Prof Rowan said: "This is an exciting time to join the Scottish government and I'm looking forward to working with ministers and officials to show the added value that science advice can bring to their work.
"I'm also keen to meet scientists across Scotland so that I can fully appreciate the potential impact of new developments in science, engineering and technology."
She was described as an "outstanding scientist" and a "brilliant communicator and superb role model" by Prof Anton Muscatelli, the principal of the University of Glasgow.
Her appointment was also welcomed by scientific bodies including the Royal Society of Edinburgh and the Institute of Physics.
Prof Rowan is director of the university's Institute for Gravitational Research, which was part of a global effort leading to the discovery earlier this year of gravitational waves, one of the most significant scientific discoveries of this century.
The discovery confirmed Einstein's theory predicting their existence, and showed that the collision of two black holes could be detected from their gravitational ripples travelling across the universe.
The CSA vacancy was initially advertised in March and April of last year, but was later readvertised after the government was unable to appoint a successor to Prof Calder.
GM crops
The Scottish government opted to ban the growing of GM crops while the post was vacant - a decision that was strongly criticised by Prof Calder and another previous CSA, Dame Anne Glover.
And it has announced a moratorium on fracking and underground coal gasification, which are also areas in which a chief scientific adviser would have been expected to provided advice to ministers.
The Scottish Conservatives criticised the length of time it had taken to appoint a new CSA, which they said had led to the decisions on fracking and GM crops being taken without proper scientific evidence being considered.
The party called on Prof Rowan to look into the banning of GM crops, which it said had the potential to "revolutionise the science and agriculture sector."
Lib Dem MSP Tavish Scott said Prof Rowan's appointment "ends the farce of this post having remained unfilled for 18 months," and that she would "bring the sort of experience and scientific rigour to the government that all too often has been lacking in recent months".
But as he announced Prof Rowan's appointment, Mr Swinney insisted that the government "values science and the expert scientific advice provided by our network of specialist science advisers".
He added: "As CSA, Prof Rowan will help to ensure that science informs the Scottish government's work, and advise on the impact that new developments in science may have."