Row erupts over Scotland's affordable housing figures target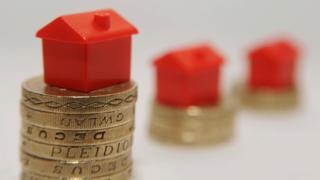 The Scottish government has said it has achieved its "ambitious" pledge to build 30,000 affordable homes.
However, the Scottish Lib Dems claimed an original target, made in the SNP's 2011 manifesto, had not been fulfilled.
They say the promise changed from 30,000 "socially rented homes" to 30,000 "affordable homes with at least two-thirds designated for social rent".
In the past five years, 33,490 affordable houses have been built, with 22,523 of those for social rent.
Housing Minister Kevin Stewart said: "Exceeding the ambitious 30,000 target is no mean feat in a challenging financial environment.
"Our investment of more than £1.7bn, as well as the reintroduction of council-house building, has meant high-quality, energy-efficient, affordable homes have been built the length and breadth of the country.
"We are building at a rate faster than anywhere else in the UK.
"And, in fact, since 2007, we have built over 41,000 more homes than would have been built at England's lower per-capita rate.
"That is the equivalent of a new town the size of Paisley [Renfrewshire]."
'Housing crisis'
Lib Dem MSP Alex Cole-Hamilton claimed that after the SNP won power in 2011, it lowered its target from 30,000 to 20,000.
He said: "No amount of boastful press releases will help families into homes.
"The Scottish government needs to be more focused on new rented homes."
The latest figures also showed that the public sector boosted house building to a slight rise last year, compensating for a fall in private sector completions.
Total new-build starts and completions were both up slightly (3%) to 17,231 and 15,954 respectively for 2015, according to combined social and private figures, which lag three months behind the public-sector statistics.
Private house building, which still accounts for about three-quarters of construction, was roughly static (-0.2%) at 12,896 starts, while completions were 2% down to 11,917.
The annual rise was driven by council and housing association building, with 14% more starts to 4,335 and a fifth more (20%) completions to 4,037.
Reacting to the figures, Gordon Nelson, of the Federation of Master Builders (FMB) Scotland, said they demonstrated how "far we are from building the number of homes that the country needs to tackle the housing crisis".
'Healthy private sector'
He added: "It's imperative that a real effort is made to tackle an erratic planning system that stymies development and to unblock a financial system in which major banks are reluctant to lend to SME [small and medium-sized enterprises] house builders, which are crucial to getting Scotland building again."
Nicola Barclay, of Homes for Scotland, said the figures indicated that both private-sector-led starts and completions were down on the previous quarter and on the previous year.
She added: "A healthy private sector is also essential given the contribution it makes to providing homes for people at other stages of their housing journey, creating a vibrant housing ladder. So we must see an increase in supply across all tenures."
The Scottish Federation of Housing Associations (SFHA) welcomed the fact the government had exceeded its affordable homes target.
However its chief executive, Mary Taylor, said: "We are aware that other factors impact on the sector's ability to deliver increased numbers of affordable housing.
"The key issues are planning, infrastructure, availability of affordable land and access to skilled workers."