EU Referendum: Impact of Brexit on Scots economy debated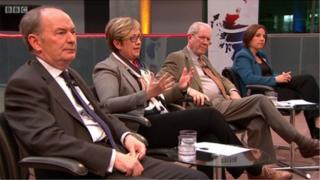 The potential impact of Brexit on the Scottish economy has featured in a live BBC Scotland debate ahead of Thursday's EU referendum.
The debate saw the case for Remain being put by Scottish Labour leader Kezia Dugdale and SNP MP Joanna Cherry.
They faced former SNP deputy leader Jim Sillars and Conservative peer Lord Forsyth, who are both pro-Brexit.
The panel also faced questions on immigration and the possible implications for Scottish independence.
Polls have suggested the two sides are neck-and-neck as the campaign enters its final days - although Scotland still appears to be more in favour of Remain than other parts of the UK.
The leaders of all of Scotland's main political parties also want the UK to remain a member of the EU, although there are some dissenting voices within them.
The BBC Scotland debate was chaired by Glenn Campbell, and opened with a question on the economic implications of Brexit.
Ms Dugdale said the negative effect of Brexit would be seen "almost instantly" as markets opened on Friday morning if there was a vote to leave.
Ms Cherry told the audience that Scotland benefited from £16bn a year from Europe, adding: "At the moment we are part of a free market where we have access to 500 million other consumers, and this has brought massive benefits to the Scottish and the British economy.
"If we voluntarily withdraw from that free market, we will no longer have access to trading with that free market, and of course it is going to have an impact on jobs and investment, that goes without saying."
And she said it was a "no-brainer" that jobs and investment would be hit by Brexit, but would not be drawn on how many jobs she thought would be lost.
Lord Forsyth played down the chances of a major economic shock from Brexit, saying: "Despite all the scaremongering that's been going on, if you look at the markets today the pound is broadly where it was before the referendum was announced."
And Mr Sillars predicted a trade deal between the UK and EU would be reached after Brexit as it would be "lunacy" for the EU to put up trade barriers with the world's fifth largest economy.
He said the 27 EU members exported about £290bn of goods and services to the UK every year, while UK exports to the EU were worth about £228bn, so it was in the interests of both sides for an agreement to be reached.
Later in the debate, Lord Forsyth criticised the unofficial Leave campaign's Breaking Point poster as "silly" and "particularly stupid".
And Mr Sillars said UKIP leader Nigel Farage would be largely to blame if Leave lost because of his "disgraceful" attitude to immigration.
He said Scotland needed many more people to come from all over the world, which he said would be "good for us all".
Independence question
Ms Dugdale said only 5% of EU migrants claimed benefits in the UK, and claimed that the Leave campaign "make out that it's 95%".
She also stressed the importance of migrants to the NHS, saying that you were much more likely to be treated by a migrant than to be sitting next to one in the waiting room.
The panellists were also asked about the implications of Scotland voting to remain in the EU while the UK as a whole voted to leave.
Ms Cherry predicted it would lead to a "groundswell of support" for a second referendum on independence, and said an independent Scotland might not want to use the pound "if it dives after Brexit".
But Mr Sillars said the SNP would not have a mandate to hold a referendum as it was not included in its manifesto ahead of the Holyrood election, and the party had now formed a minority government.
Lord Forsyth claimed an independent Scotland would not be allowed into the EU because the country would not meet the debt criteria for membership.
And Ms Dugdale said the reasons for remaining in the UK would be "even stronger" after Brexit because people would not want to lose Scotland's biggest trading partner as well as its second biggest.
'Pressure on services'
Earlier in the day, First Minister Nicola Sturgeon argued that the UK leaving the European Union could put the NHS and workers' rights at risk.
Speaking at the Royal College of Nursing's annual congress in Glasgow, the first minister said the referendum result could have "profound consequences" for health services.
But Tom Harris, director of Scottish Vote Leave, said Ms Sturgeon was "sticking her head in the sand" by "ignoring the pressures on local health services that would result from a Remain vote".
He said: "Research releases show that if existing levels of EU net migration continue, NHS Scotland will require an additional £309m per year by 2030 to maintain current funding levels."