Scottish government and doctors agree GP funding deal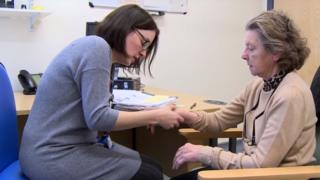 The Scottish government and the British Medical Association have reached an agreement over the future of GP services in Scotland.
Ministers said they had committed to "pay stability" for doctors up to April 2018 although a review of pay and expenses is to be carried out in 2017.
BMA Scotland said the agreement was about making "vital" changes to GP's workload.
The accord comes a week after a damming Audit Scotland review of the NHS.
The public spending watchdog said the health service needed to make unprecedented savings in 2016-17.
It followed an announcement by First Minister Nicola Sturgeon that an additional £500m would be directed towards GPs and health centres by 2021.
'Destabilising them financially'
The new agreement is being sent to all GPs across Scotland on Thursday.
Health Secretary Shona Robison said: "We are shifting the balance of care away from hospitals and into the community, and GPs have a vital role to play in working with us to make it happen.
"For our part, we will work to improve the attractiveness of general practice as a career, with action on workloads, and steps to create a more sustainable workforce."
Dr Alan McDevitt, chairman of the BMA's Scottish General Practitioners Committee, told the BBC's Good Morning Scotland programme that the deal would allow GPs to look after those who "really needed them".
He added: "We're announcing that next year we will explicitly start to move workload away from GP practice, but without destabilising them financially.
"That's really important because practices are organisations with a set amount of budget and we're saying that they get to keep that budget but at the same time we try and relieve some of that workload and pressures that they face."
Dr McDevitt said that would involve services such as child vaccinations being carried out by external teams in the community in future.
The agreement will also be used as the basis for a re-negotiation of the GP contract between the Scottish government and the profession.