Mundell: Article 50 not a 'red line' for Scots Brexit talks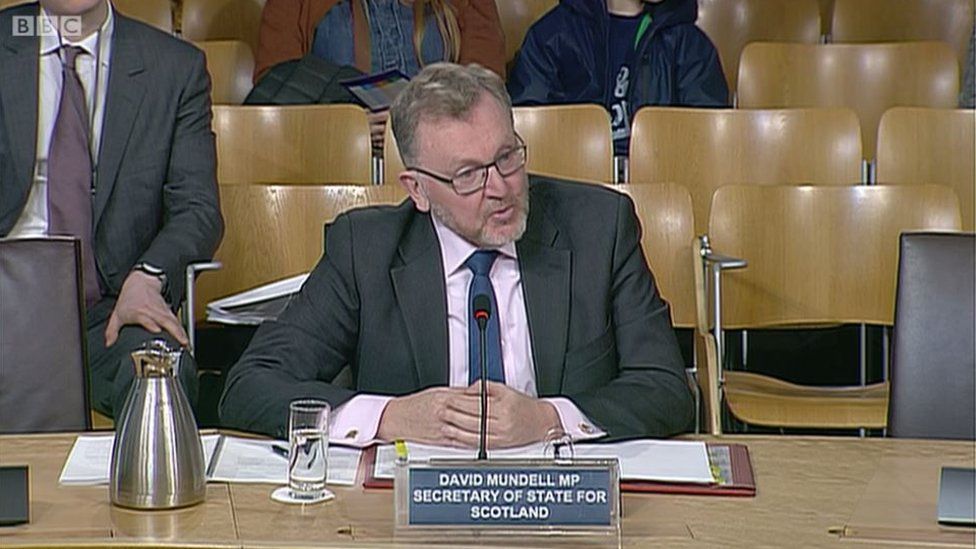 The triggering of Article 50 should not be a "red line" for talks over Scottish engagement in the Brexit process, David Mundell has said.
First Minister Nicola Sturgeon warned that "time is running out" to find an agreed UK-wide position on Brexit, calling the coming weeks "critical".
But Mr Mundell told MSPs that talks could continue after Article 50.
He also said the Scottish government was "entitled" to a formal response to its papers of Brexit proposals.
Mr Mundell and fellow UK government minister Greg Hands both gave evidence to Holyrood's culture, Europe and external affairs committee on the implications of Brexit for Scotland.
Ms Sturgeon has said "time is running out" for the UK government to "meet the devolved administrations halfway" over Brexit.
But the Scottish secretary told MSPs that Scottish government proposals were being considered very carefully, and said this process could continue after the formal start of the Brexit process.
He said: "My view is that the invoking of Article 50 is not a red line in the process. It will be possible that discussions could continue after Article 50 was invoked.
"But clearly yourselves, the Scottish government, are entitled to a response. The UK government will respond formally to the proposals contained within the document - just as we've done so far in terms of acknowledging those areas in which we are in agreement."
Under questioning from Labour MSP and deputy committee convener Lewis Macdonald, Mr Mundell said the government would look to respond as soon as practically possible, adding: "It's to everyone's benefit that we reach as early a conclusion as we can."
Earlier in the session, Mr Mundell told MSPs that there are "no circumstances" which would see Scotland stay in the EU when the UK leaves. He said that even if Scotland became independent it would need to apply to join the EU afresh.
And he said the UK government was "not minded" to devolve immigration policy to Holyrood.
The Scottish secretary said a new immigration bill would be brought forward to "dovetail" with the 'Great Repeal Bill' as part of the Brexit process, saying it was clear there would be "sectoral considerations" to address Scotland's "distinct needs".
Committee convener Joan McAlpine clashed with Mr Mundell repeatedly during the session, with the SNP MSP accusing Mr Mundell of dismissing key Scottish proposals "right from the outset".
She also said that based on evidence submitted to the committee so far, it did not seem the UK government was treating the Holyrood executive with "a great deal of respect" - a suggestion Mr Mundell said he "completely refutes".
When another SNP committee member, Richard Lochhead, asked Mr Mundell if the UK government was "stringing along" the Scottish government; the Scottish secretary replied: "Absolutely not."
Earlier in the session, trade minister Greg Hands spoke to MSPs via a video feed.
He told them that there had been "very strong and meaningful interactions" with the Scottish government so far.
He added: "I think Scotland is going to be a key and fundamental part of this negotiation from across the UK."
A spokesman for Scottish Brexit minister Mike Russell said Scotland "faces being dragged out of Europe against its will".
He said Mr Mundell, the UK government's only Scottish MP, appeared to be "totally oblivious to the irony of him seeking to lay down the law on what should happen next".
He said: "Scotland is now faced with a right-wing Tory government we didn't vote for intent on taking us off a hard Brexit cliff edge which would be catastrophic for jobs and livelihoods.
"The Tories now clearly think they can do what they want to Scotland and people will simply accept it - but the Scottish government is determined to stand up for Scotland's democratic voice and we will pursue every necessary option to protect our place in Europe."
MSPs recently voted by 90 to 34 to oppose triggering Article 50, the formal start of the Brexit process, although the Supreme Court has ruled that there is no legal need for Holyrood to give its consent.
Related Internet Links
The BBC is not responsible for the content of external sites.