Holyrood votes to pass Scottish budget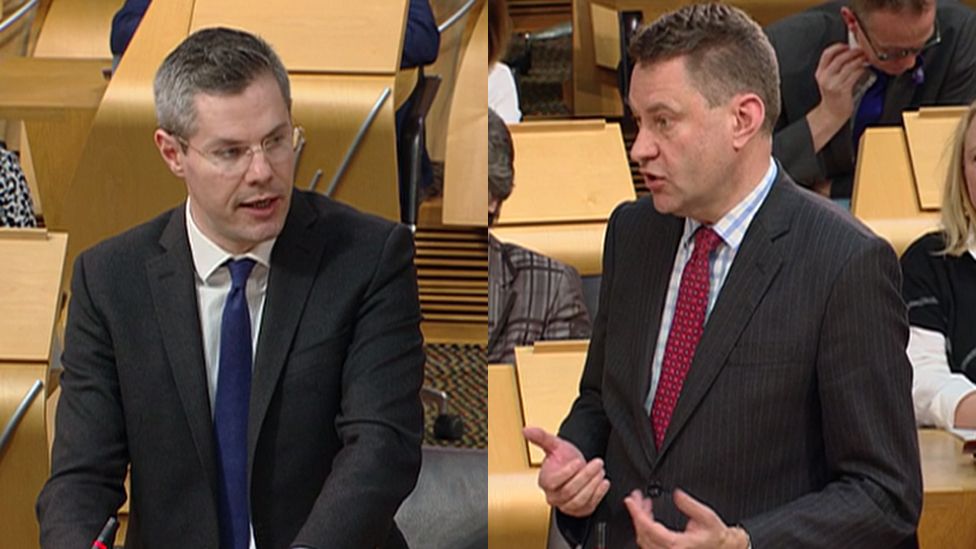 Scotland's finance secretary said his budget gave Scottish taxpayers the best deal in the UK as MSPs approved it.
They include extra funding for the NHS, investment in affordable and energy efficient housing and cash for schools to close the attainment gap.
But the Tories said Mr Mackay had made the wrong choices, with Scotland now the highest-taxed part of the UK.
The government won the final vote by 68 to 57, with the Conservatives, Labour and Lib Dems voting against.
Holyrood had been able to use powers to set income tax rates and bands for the first time, with the SNP maintaining the basic rate of the tax at 20p.
This was agreed despite calls from Labour and the Lib Dems for a 1p increase to raise cash for public services.
Ministers also rejected calls to increase the top rate of income tax from 45p to 50p for those earning £150,000 a year or more
But the point at which taxpayers start paying the 40p rate will be frozen at £43,000 in Scotland instead of rising to £45,000 in April in line with the rest of the UK - meaning higher earners in Scotland will pay up to £400 a year more than those elsewhere.
That was part of the deal to convince the six Scottish Green MSPs to back the minority SNP administration's spending plans, along with an additional £160m going to local authorities.
Mr Mackay argued that his budget "offers a balanced approach that is right for our economy, for jobs and our public services, as well as providing stability and continuity for the public and taxpayers at this time of economic uncertainty".
He said it would provide "£900m of additional investment in our public services, our people and our communities".
The minister added: "This budget delivers the best deal for taxpayers and public services in the whole of the UK. A fairer country, a stronger country and a budget that delivers for our people."
Other measures in the budget include:
Extra funding for local services via the education and health budgets
An extra £300m for NHS resource budgets
£47m to mitigate the "bedroom tax" and a pledge to "abolish" it as soon as possible
More than £470m of direct capital investment to begin delivery of 50,000 affordable homes
£140m for energy efficiency programmes
£100m investment in digital and mobile infrastructure
Mr Fraser argued that the finance secretary had chosen to "sit down with the anti-business Greens and produce a budget that will entrench our economic underperformance".
He added: "In the long run, it will be the Scottish public finances that suffer. It remains our view that the finance secretary has made the wrong choices in connection with this budget. What we should have had is a budget for economic growth.
"He is introducing, for the first time, an income-tax differential that will make Scotland the most highly-taxed part of the United Kingdom."
Scottish Labour leader Kezia Dugdale said the SNP had refused to ask the richest people on Scotland to pay "just a little bit more tax", and claimed Mr Mackay had teamed up with the Greens to "impose £170m worth more cuts to vital public services."
She added: "These cuts will harm everybody but they will hurt the poorest the most.
"Labour's plans would stop the cuts to public services we all value and allow us to invest in those public services instead."
Defending the budget deal, Greens co-convener Patrick Harvie told other parties: "Don't just throw a tantrum, make a difference."
He said: "I have never said that this budget is perfect and I won't today, but this is the biggest budget concession that any administration since devolution has given to any opposition party.
"It will make a difference in every single local government area."
Scottish Liberal Democrat leader Willie Rennie said Mr Mackay had been given new tax powers that could have allowed him to "do something different from the rest of the UK and chart our own path" on the economy, education and health services.
But he accused Mr Mackay of producing a "timid, tinkering budget" when it had been possible to "do so much more for Scotland."
Related Internet Links
The BBC is not responsible for the content of external sites.