Brexit debate: Join the TV audience and ask your questions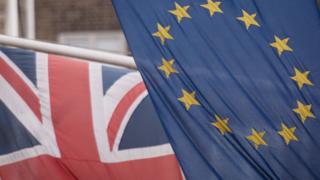 The complex negotiations required for the UK to end its membership of the European Union are expected to begin soon.
But what will the triggering of Article 50 mean for Scotland?
Well, BBC Scotland will be hosting an early evening TV Brexit debate at its Pacific Quay HQ on Tuesday, 21 March, to examine some of the key issues.
And you the public are invited to join the audience and put your questions to politicians and experts.
Guidelines require the BBC to have a balanced audience for this event being hosted by Glenn Campbell.
To help us do this, we will ask all those interested about their political affiliations.
This information is completely confidential and will only be used for the purpose of balance.
If you are interested in applying to join the audience, fill in this questionnaire.
---
When and where will the debate be?
When? Tuesday, 21 March
Where? BBC Scotland, Pacific Quay, Glasgow
Time? You will need to be available from 17:30 until 19:30