Nicola Sturgeon 'no plans' for indyref court challenge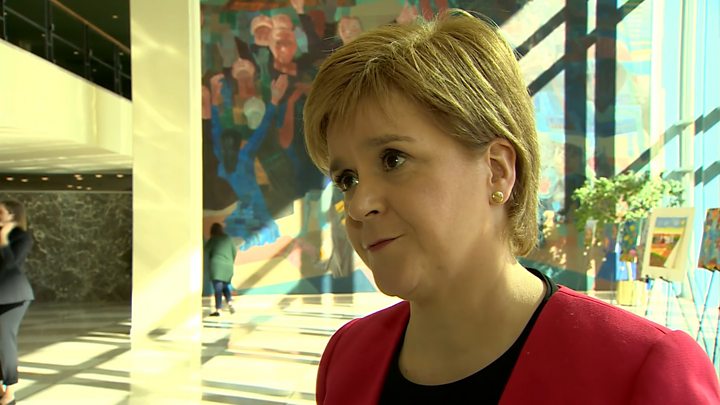 First Minister Nicola Sturgeon has "no plans to go to court" to challenge to Theresa May's decision to block a second independence referendum.
Ms Sturgeon told BBC Scotland she thought the matter should be settled politically and not in the courts.
Last week, the Scottish Parliament voted in favour of asking the UK government to allow a legally-binding referendum on independence.
The prime minister said "now is not the time" to hold a vote.
Legal challenge
Mrs May argued that the focus should instead be on getting the best deal for the whole of the UK in the forthcoming negotiations on leaving the EU.
She ruled out allowing the vote in the timescale outlined by Ms Sturgeon of autumn 2018 to spring 2019.
Ms Sturgeon told BBC Scotland: "It is absolutely essential that if the will of the Scottish Parliament is for a referendum then that should be respected.
"I don't think there is any need, nor is there any intention, to see a matter that should be settled politically end up in the courts."
The first minister is in the US on a five-day tour.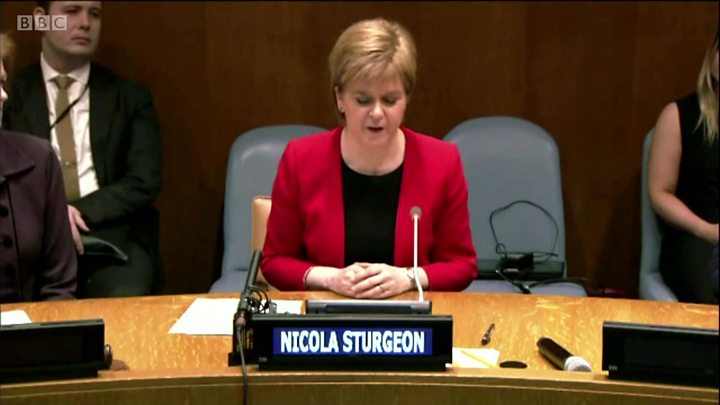 She sparked speculation about her intentions to mount a legal challenge in a speech at Stanford University in California on Tuesday when she said the issue had never been tested in court.
The first minister said she was "seeking that legal consent from the Westminster government to legislate for an independence referendum, which at the moment they're saying they're not willing to give".
But she stated: "That is not a sustainable position frankly for the UK government to take, it is a bit of a holding position just now. There will be another referendum on Scottish independence, of that I am fairly certain."
The legislation that created the Scottish Parliament reserved powers over constitutional issues to the UK.
But Ms Sturgeon argued that it was "quite a vague term" which had never been tested in court.
Scottish Liberal Democrat leader Willie Rennie said the first minister was "refusing to fully rule out court action", accusing her of "tramping along a familiar nationalist path".
He said: "Keeping the option of court action means we are stuck with the SNP's rat-a-tat-tat campaign for independence moving forward every day.
"The first minister's refusal to clearly rule out court action on an independence referendum shows she is increasingly desperate in her bid for independence."
On Wednesday evening, Ms Sturgeon continued her US tour by addressing diplomats at the United Nations in New York.
She said an independent Scotland could play a bigger role at the world body to help promote human rights, gender equality and peace.
"We are a relatively small country, but a country that potentially can have a big, positive and powerful voice," she said.
Ms Sturgeon used her address to the UN to raise her international profile and draw attention to Scotland's credentials as a "good global citizen."
The first minister said she wanted to "explore ways in which the Scottish government can further support the UN and its various different forums," in particular in the area of human rights and gender equality.
Scotland is working with the United Nations to offer training to women in Iraq, Syria, Yemen and other conflict areas in the Middle East to help them play a larger role in promoting peace.
Last year, 50 women took part in the Scottish programme and the same number will take part in the initiative every year until 2021, said Ms Sturgeon.
She took part in a question and answer session at the Women in the World summit in New York on Thursday - where Hillary Clinton, Canada's prime minister Justin Trudeau and actress Scarlett Johansson also due to speak.
Ms Sturgeon told the audience her support for independence was driven by "belief in social justice" and not identity.
She said independence was about "creating genuine partnership of equals" and "not about breaking away from England".
Meanwhile, Scottish Secretary David Mundell has been in Singapore, where he gave a lecture at the International Institute for Strategic Studies.
Mr Mundell told his audience that Brexit will "strengthen" the devolution settlement in Scotland.
He also repeated UK government assurances that no decisions under the control of the Scottish Parliament will be removed when powers are returned from Brussels.
'Outward-looking'
Mr Mundell added: "It is the expectation of the UK government that the outcome of this process will be a significant increase in the decision-making power of the devolved Scottish government."
He insisted that the Brexit negotiations would build "a stronger, fairer, more united and more outward-looking country".
Mr Mundell also focused on Scotland's trading relationship with Singapore, which the Scotland Office said ranked fifth globally in terms of food and drink exports from Scotland, worth £202m, in 2015.
He said: "Scotland, and the rest of the UK, has always looked to the rest of the world and the opportunities it holds."