Election 2017: Scottish Labour 'guarantees' indyref2 opposition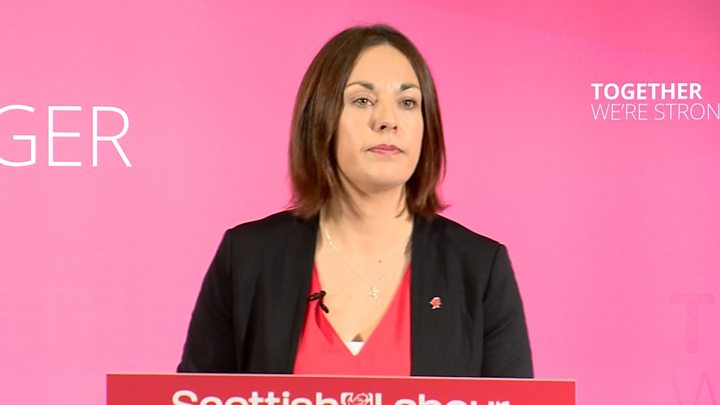 Scottish Labour has said it will "never" support independence as it launched its manifesto for next month's general election.
Speaking at the event in Edinburgh, leader Kezia Dugdale gave a "cast-iron guarantee" that her party will oppose a second referendum.
She accused the SNP of prioritising independence over education and health.
And she said Scotland was already divided enough - and did not want or need another "divisive" referendum.
Holding aloft her party manifesto, she told the gathering: "In these 120 pages you will find our cast iron guarantee that we will oppose a second independence referendum.
"The Labour Party, built on solidarity and co-operation, could never support taking our country down a divisive path like that again - our country is divided enough."
The manifesto states that Scotland would face a £15bn deficit if the UK were to be "torn apart", which it says would hurt the poorest and most vulnerable in society.
It goes on to say: "The SNP needs to respect the verdict of the majority of Scots in 2014 and abandon its divisive plan to re-run the referendum.
"It needs to get on with the day job and reverse the cuts being inflicted on Scotland's public services. Scottish Labour will never support independence, because we believe that together we're stronger."
The manifesto also features a series of pledges aimed at delivering "transformative change" in Scotland - many of which are the responsibility of the Scottish Parliament rather than Westminster.
These include:
commitments to bring forward Member's Bills on banning MSPs from holding paid second jobs
extending breakfast clubs into every primary school
banning onshore fracking
improving access to sanitary products to tackle "period poverty"
and scrapping the Offensive Behaviour at Football Act.
Its policies on reserved issues largely mirror those set out in the party's UK manifesto last week - including on Trident.
While Scottish Labour is opposed to Trident, the Scottish manifesto includes a commitment to support the renewal of the UK's nuclear weapons, explaining this is because defence is a reserved issue
Ms Dugdale singled out Labour's commitment to introduce a £10 per hour living wage by 2020 as the policy with the most potential to transform the country.
There are 467,000 Scots in work who earn less than the living wage at the moment, Ms Dugdale said, two-thirds of whom are female.
Ms Dugdale said: "This is a manifesto in the finest traditions of the Labour movement, and it starts with some very simple principles.
"Power and wealth in our country are concentrated in too few hands, and for Scotland to succeed each and every one of us has to do well.
"And whatever the challenges that are thrown at us we are better tackling them together because together we are stronger."
'Hopeful plan'
Labour just one of the 59 seats in Scotland at the last general election in 2015 as it lost 40 seats to the SNP.
But Ms Dugdale told voters that her party offered them a "clear choice" and the opportunity to "reject the divisive policies of the SNP and the Tories", who she said were still acting like the "nasty party" under Theresa May.
She said: "You can reject a second independence referendum and hard Brexit and you can vote for a positive and hopeful plan for Scotland and the United Kingdom."
And she urged people who want to "break the hold that nationalism has on our politics" to support her party, which she said was the only one that could defeat the SNP in Scotland and the Conservatives across the UK.
---
Analysis by Philip Sim, BBC Scotland political reporter
Kezia Dugdale was focused on the future. She said the single most significant policy in the manifesto was for a £10 per hour living wage. Making work pay, she said.
She backed Labour plans for an increase in public spending which would, she told me, result in £3bn extra which the Scottish Parliament could deploy as it chose.
That would, needless to say, require additional taxation, as set out by Jeremy Corbyn. But, intriguingly, the tax plan set out by Ms Dugdale is not the Corbyn package. Instead, she reverts to Labour's own Scottish offer, including an increase in basic rate income tax. That would be for Holyrood, not Westminster, to deliver.
She deplored Conservative policies on pensions and benefits, even including the revised offer on social care for the elderly in England. They were, she said, "standing in this election on a miserable and mean manifesto that will take our country backwards."
Up with this, she added, Labour would not put. But what, inquired the wicked media, are you going to do about it?
---
Scottish Labour's focus on its opposition to independence comes as both the SNP and the Scottish Conservatives have sought to define the election as a two-horse race between their parties.
The Tories, who squeezed Ms Dugdale's party into third place in the most recent Holyrood and council elections, have repeatedly led their campaigning on a hardline message of opposing another referendum.
Labour's UK manifesto also confirmed it opposed an independence referendum despite leader Jeremy Corbyn previously saying it would be wrong for Westminster to block a vote if the Scottish Parliament called for one.
Writing in the manifesto foreword, Mr Corbyn said independence would inflict "turbo-charged austerity on the Scottish people", and said that nationalism does not offer hope or solutions to society's problems.
The Scottish Conservatives launched their manifesto last week, with the SNP due to do the same on Tuesday.
---
What are other parties saying about Labour's manifesto?
With Labour supporting an increase in some taxes - including 1p on the basic rate of income tax in Scotland - SNP deputy leader Angus Robertson criticised "Kezia Dugdale's desire to hit the poorest in our society with a bumper tax bill".
Mr Robertson said: "Labour cannot pretend to support ordinary workers when at the same time they want to hit them with a fresh tax bombshell - something even the UK Labour party have avoided."
Claiming Labour was at "sixes and sevens" over tax, Trident and Brexit, Mr Robertson said only a vote for the SNP could "keep the Tories out of Scotland".
Meanwhile, the Scottish Conservatives released a "dossier" which they say provides evidence that a "number of Labour candidates standing next month are backers of the Yes campaign".
Scottish Conservative candidate John Lamont, said: "Kezia Dugdale and Jeremy Corbyn cannot be trusted on the union - the record speaks for itself.
"Labour may pretend that it opposes a second referendum on independence, but not only do a series of candidates for next month say the complete opposite, Corbyn himself has said he's 'absolutely fine' with it."
Scottish Liberal Democrat leader Willie Rennie said: "The big problem for Labour is that they voted with the Conservatives for an extreme hard Brexit.
"They have joined UKIP in giving up on the single market. They would be devastating for Scottish jobs."