Manchester attack: Armed police deployed across Scotland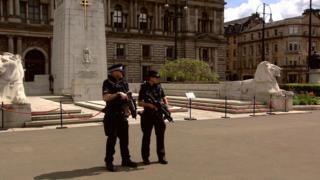 More armed officers will be deployed across Scotland for the "foreseeable future" after the Manchester attack, the chief constable has said.
Police Scotland will also review plans to protect major upcoming events, including the Scottish Cup Final.
The first minister announced that civil nuclear and MoD sites in Scotland will now be secured by military personnel to free up armed police.
But Nicola Sturgeon said there were no plans to put soldiers on the streets.
Monday night's suicide bombing at the Manchester Arena left 22 people dead and 64 injured.
Scottish teenager Eilidh MacLeod died in the attack. Her friend Laura MacIntyre suffered serious injuries.
In a statement to the Scottish Parliament, Ms Sturgeon confirmed that seven people were treated at Scottish hospitals after returning from Manchester following the attack, but all have since been discharged.
The terror threat level across the UK has been raised to "critical" since the attack, meaning that military personnel can now be deployed to protect key sites.
Ms Sturgeon told MSPs: "Military personnel will be used at civil nuclear and MoD sites here in Scotland. There are a total of 12 such sites in Scotland - nine MoD and three civil nuclear sites.
"These sites, which are not accessible to the general public, will be secured by the military as of today."
The first minister said this would free up armed police to create a "contingency resource" which could be sent anywhere in the UK.
She said: "We do not currently envisage that military personnel will be deployed on the streets in Scotland or in other public locations. However, as with all operational matters this will be kept under review by the chief constable."
A "full review" of all major events in Scotland over the next few weeks will also take place.
This includes the Lisbon Lions event in Glasgow on Thursday, President Barack Obama's visit on Friday, the Scottish Cup Final at Hampden Park on Saturday, and the Edinburgh Marathon at the weekend.
Security measures could include full body and bag searches, as well as the presence of armed police.
The first minister added: "This is clearly a very anxious time but there is no need to be alarmed. Many of the steps that are being taken now are precautionary and I repeat there is no intelligence of a specific threat to Scotland."
The Chief Constable of Police Scotland, Phil Gormley, said the force would be increasing its operations around the country to protect people, businesses and public places.
"What we did yesterday [Tuesday] morning in the immediate aftermath was substantially increase the number of armed officers available deployed across Scotland particularly to crowded places. We've augmented that through the night," he said.
"We have plans to be able to maintain that for the foreseeable future."
The chief constable told BBC Scotland his force would also be relying on its intelligence team at the Gartcosh crime campus and the support of local communities in its fight against terrorism.
And he said the public would notice heightened security at major events in Scotland in the next few weeks.
"You'll certainly see an increased and enhanced search regime, you'll see more armed officers and of course we have a range of less obvious tactics and techniques that we wouldn't necessarily put in the public domain that enable us to keep people safe," he said.
But Mr Gormley added there was no intelligence to suggest a "specific threat" to Scotland.
The Scottish government's resilience committee met for a third time late on Tuesday after the UK's security level was raised its highest alert status.
Manchester arrests
Political campaigning in the general election was also suspended for a second day, but is expected to resume at a local level on Thursday.
Police have named the suspected suicide bomber as 22-year-old Salman Abedi, who died in the blast after detonating an improvised explosive device he had been carrying, at about 22:35 on Monday night.
Home Secretary Amber Rudd has said it is "likely" he was not acting alone.
Five people have been arrested in connection with the attack, including the bomber's brother.
So-called Islamic State has said it was behind the attack, via IS channels on the messaging app Telegram.
A hotline has been set up for people concerned about loved ones - 0800 096 0095.