Scottish government to 'fall short' of farm payout deadline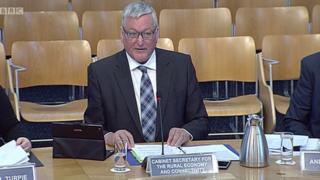 The Scottish government is set to "fall short" of Friday's deadline for farm subsidy payments, MSPs have been told.
It emerged last week that Scottish ministers want this week's deadline extended for Common Agricultural Policy payments extended to October.
Rural Economy Secretary Fergus Ewing told MSPs that 90% of payments were expected to be completed on time.
He said other payments would follow "fairly shortly thereafter", with talks over potential EU penalties ongoing.
Nicola Sturgeon has apologised for the delays. Speaking to farming leaders last week, the first minister said there was "no complacency" on the part of her government and insisted there was a "100% focus" on getting payments made.
Fergus Ewing told the rural economy committee that 82% of pillar one payments had been made so far, and that it was projected that about 90% should be complete by Friday's deadline.
A formal approach has been made to the European Commission about extending the deadline - something which also happened extended to October last year after problems with the Scottish government's new £178m IT system.
There have been warnings that the government could face fines of up to £60m over the issue, with Audit Scotland saying the troubled IT system still presents "significant risks and costs for the Scottish government".
Faming leaders have called for progress on delivering the "vital" subsidies, not more apologies.
European Commission sources said last week that the latest request for an extension was still being considered, with the Scottish government urged to speed up payments ahead of the current deadline of 30 June.
'Primary concern'
At the committee, Mr Ewing said the government expected to "fall short" of the target of getting 95.24% of payments through by 30 June. At present, 82% of payments have been completed, with Mr Ewing insisting "good progress" was being made on others.
He said: "Our central forecast is that we will make around 90% of payments - in other words we will fall short by a few percentage points.
"We are making a large number of payments each day to achieve that. I expect that the remaining payments will be made fairly shortly after the 30th of June - in other words they will not be made within the deadline, but fairly shortly thereafter."
Mr Ewing added that "virtually all eligible payments will be made by the end of August".
He said it was "impossible" to know what penalties the government might face, but said it was likely to be far less than the £60m figure suggested by the auditor general.
He said the government's "primary concern" was getting payments out to farmers, with a decision to be taken shortly if a loan scheme would be needed to bridge gaps in payments would be needed in the coming year.
Scott Walker, chief executive of the National Farmer's Union Scotland, said: "We stand by our position that farmers and crofters should have been amongst the first to have been informed that an application to extend the payment window had been made.
"While 90% of support will have been delivered by 30 June, that is of little comfort to those still waiting on some or all of their payments. And the reality is that some are still waiting on payments being completed from 18 months ago and not just the current scheme year.
"Complete trust and confidence in the IT system will only be achieved when the Scottish government outlines a clear monthly timetable for payment delivery and that timetable is met without exception."
---
What are the CAP payments?
Reforms to the CAP system saw the Single Farm Payment Scheme replaced by the new Basic Payment Scheme (BPS) in 2015.
The BPS is the main EU subsidy available to farmers in Scotland, with the money being allocated by the Scottish government.
The payments are designed to act as a safety net for farmers and crofters by supplementing their main business income.
A total of 19,674 different Scottish rural businesses received a total of about £650m in CAP payments last year.
---