First minister says Labour Brexit move 'welcome'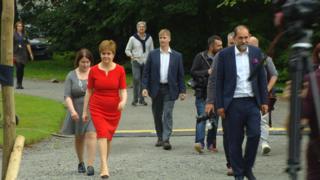 First Minister Nicola Sturgeon has given a cautious welcome to a change of emphasis from Labour on Brexit.
Labour has said it would advocate the UK remaining within the EU's single market and the customs union "for a transitional period".
The move would require free movement of labour continuing after the projected UK leaving date of March 2019.
Ms Sturgeon said Labour ought to accept continuing membership of the single market in the longer term.
The first minister said: "If it is a genuine, substantive, real change in Labour's position - fully signed up to by Jeremy Corbyn - then, yes, it is welcome.
"But I think Labour needs to be completely unequivocal.
"If we are leaving the European Union, which I regret deeply, then we must stay in the single market and the customs union.
"Not for some transitional period, but period."
She added: "I would really hope that Labour gets itself into a position away from the hard Brexit position it's been pursuing."
'Short as possible'
Labour has said it would keep the UK in the EU single market and customs union for a transitional period after leaving the EU.
Shadow Brexit secretary Sir Keir Starmer set out Labour's new position in the Observer.
The shift in policy would mean accepting the free movement of labour after leaving the EU in March 2019.
Sir Keir said the transition would be "as short as possible but as long as necessary".
Labour leader Jeremy Corbyn, who is in Scotland, explained what the transitional arrangement might mean.
He said: "Obviously we've got to work out what the arrangements are during the transition period and make sure we reach agreement on that.
"But quite clearly the priority has to be protecting jobs and also understanding the needs of EU nationals that are living here.
"We've already said that we will as a Labour government guarantee their rights to remain in Britain and also recognise that many of our public services wouldn't be able to operate without EU nationals working in them."
Later, at an audience event in Edinburgh, Mr Corbyn dismissed the idea of a separate deal between the EU and Scotland.
He was appearing in conversation with comedian and broadcaster Susan Morrison, on the last day of his five-day tour of Scotland.
He said: "Could you have a separate arrangement for different parts of the UK?
"I think that becomes very complicated because if you are trading, companies exist in Scotland, exist in Wales, exist in England, they are making things, doing things together, it would be very, very difficult if not impossible to see how we could separate those out.
"It has to be a UK-wide agreement."
The Conservatives have accused Labour of being confused about its approach to Brexit.
MP for Gordon Colin Clark said: "Labour clearly don't know what they actually want.
"Their leader can't make up his mind if they want to change migration. They don't know if they want to be in the single market and they don't seem to have any vision going forward for Britain outside the EU.
"We are going to Europe to negotiate the best deal without a cliff edge for British businesses."