Initiative aims to cut NHS Scotland waiting times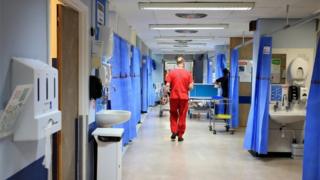 A new initiative aimed at cutting NHS waiting times has been announced by the Scottish government.
The move will see a group of experts help health boards improve the management of planned operations and outpatient appointments.
It was announced as statistics showed an increase in the number of people waiting too long for treatment.
The data showed that the 18-week referral to treatment target was met for 84.8% of patients in June.
This was down from 87% in the same month last year, and was again below the Scottish government's own 90% target - which has not been met since June 2014.
Only five out of 15 health boards achieved the 90% standard, with the figures also showing that 81.4% of patients waiting for either inpatient or day treatment were seen within the 12-week treatment-time guarantee.
This compares to 82.2% in the previous quarter and 91.3% in the same period last year.
Outpatient appointments
Meanwhile, 74% of patients waiting for a new outpatient appointment at 30 June had been waiting 12 weeks or less, down from 80.7% at 31 March and 85.7% at the same point last year.
And 82.9% of patients waiting for key diagnostic tests, including procedures to detect cancer, had been waiting less than six weeks at 30 June. This compares to 86.7% at 31 March of this year and 92.2% at 30 June 2016.
The Scottish government said its new Elective Access Collaborative Programme would see its own experts work alongside those from NHS Scotland and the Royal Colleges as part of efforts to improve waiting times.
It will be led by the chairman of the Royal College of Physicians of Edinburgh, Prof Derek Bell, and the chief executive of NHS Fife, Paul Hawkins.
Prof Bell previously led the National Unscheduled Care Improvement Team - which the Scottish government said had brought Scotland's A&E waiting times up to the best in the UK.
The initiative will seek to build on the extra £50m of investment allocated to cut waiting times this year.
The Scottish government expects this investment to deliver 80,000 extra outpatient appointments and 12,000 extra inpatient appointments by the spring of next year.
Health Secretary Shona Robison said: "We know that any patient waiting for planned surgery or an outpatient appointment wants to be seen as quickly as possible.
"Today's announcement will build on our earlier injection of funding to reduce waiting lists, by providing the expert support to transform scheduled care and put the services on a sustainable footing for the future.
"This partnership working between government, the NHS and the profession has already achieved some excellent results in unscheduled care - and we are keen to replicate this successful approach."
But opposition parties claimed the latest waiting time statistics were further evidence that the government was mismanaging the NHS.
Scottish Conservative health spokesman Miles Briggs said it was becoming "increasingly difficult to find an NHS target the SNP does consistently hit".
And Scottish Labour called for Ms Robison to be removed as health secretary if Nicola Sturgeon reshuffles her cabinet.