MSP Anas Sarwar launches Scottish Labour leadership bid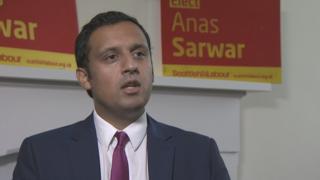 Scottish Labour MSP Anas Sarwar has announced his candidacy for the position of party leader.
The Glasgow representative said he was "ready to unite our party and lead us back to power".
Central Scotland member Richard Leonard has also set out his stall for the leadership contest, which was triggered by the resignation of Kezia Dugdale.
A series of other MSPs, including interim leader Alex Rowley have already ruled themselves out of the race.
The party's Scottish executive group will meet on Saturday, 9 September to set out a timetable for the leadership election.
Ms Dugdale quit after two years in the job saying it was time for her to "pass on the baton" to a new leader with "fresh energy, drive and a new mandate".
'United party'
Mr Sarwar, who was a Glasgow MP from 2010 to 2015 before being elected to Holyrood in 2016, said he could unite the party and take the fight to the SNP and the Conservatives.
He said: "This is an election that nobody wanted or expected, and I would once again like to pay tribute to Kezia Dugdale for her dedicated service.
"Labour is revitalised in Scotland and I am ready to unite our party and lead us back to power.
"The people of Scotland do not need a Labour Party that is fighting itself. They need a united Labour Party in Holyrood that is fighting the SNP and ready to form Scotland's next government.
"And they need a united Labour Party across the UK working together to elect Jeremy Corbyn as prime minister."
Mr Sarwar's campaign is being chaired by fellow MSP Pauline McNeill and newly-elected MP Martin Whitfield.
Mr Leonard, who was first elected to Holyrood in May 2016, is seen as primarily being backed by elements of the Scottish party supportive of UK leader Jeremy Corbyn.
The former union organiser told the BBC's Good Morning Scotland programme that Labour had failed to capitalise upon a potential "Corbyn bounce" north of the border in June's election.
He said: "There was an opportunity I think which in all honesty the Scottish Labour Party missed. There was a Corbyn bounce, I don't think it was picked up soon enough and acted on quickly enough in Scotland.
"I think if the Labour party in Scotland had properly understood what was going on, and acted on it, then there was an opportunity for even greater success than we scored.
"We should have used the opportunity of Jeremy Corbyn's growing popularity in that election to knock on more doors, to get across the Labour message and I think to get away a bit from the entrenchment in constitutional politics we find ourselves in."
Mr Leonard said he "campaigned hard" for a No vote in the 2014 independence referendum, but said the party could attract Yes voters by putting forward a "vision of hope" and "progressive change".