Baroness to become new Scottish Conservative MEP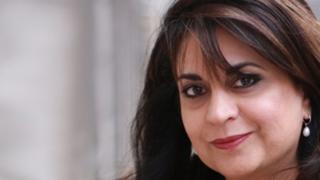 Conservative peer Nosheena Mobarik has been appointed to represent Scotland in the European Parliament.
Baroness Mobarik, a former chairwoman of CBI Scotland, will replace Ian Duncan, who resigned to take up a position as a Scotland Office minister.
She was placed third on the Scottish Conservative list for the 2014 European Parliament election.
Belinda Don, who was second on the list, had threatened legal action over the party's plan to pass her over.
She described the decision as "rampant cronyism" which "would shame a third world despot".
'Great honour'
Baroness Mobarik will be taking a leave of absence from the Lords to serve as an MEP, and will be sworn in on Monday, 11 September. She said it was "a great honour" to be able to serve Scotland as an MEP.
She said: "I am keen to get straight down to business by taking up a seat in the European Parliament immediately.
"My sole focus will be to represent the people of Scotland in Brussels and to do my bit to ensure our departure from the European Union is handled as smoothly as possible."
As well as CBI Scotland, she has chaired the Pakistan-Britain Trade and Investment Forum. The businesswoman was appointed an OBE in 2003, and promoted to CBE in 2014, the same year as she was made a life peer in the House of Lords.
Her predecessor Mr Duncan said it was "great to hear" of Baroness Mobarik's appointment, saying she would bring "a wealth of experience to the role at a critical time".
But Mrs Don hit out at the decision to pass her over on the list, saying it contravened both precedent and electoral law.
She said: "The rampant cronyism of Ruth Davidson and the leadership is staggering beyond belief.
"The total disregard that Ruth shows both for her members, voters and electoral law would shame a third world despot."
SNP MEP Alyn Smith said it was a "really sorry episode for democracy", claiming that Mrs Don being passed over was "a complete stitch-up".