Ruth Davidson 'not flying the flag for Brexit'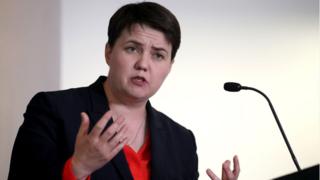 The Scottish Conservative leader Ruth Davidson has said she would campaign to remain in the European Union if another referendum were to be held.
In an interview with BBC director of news James Harding she said she was "not flying the flag for Brexit".
Her comments came during an event hosted by the Board of Deputies of British Jews.
She added: "I would quite happily never have a constitutional referendum in my lifetime on anything ever again".
A high-profile Remain campaigner ahead of the EU referendum last June, Ms Davidson has previously said she wants the UK to keep the "largest amount of access" to the single market after Brexit.
She has also called for what she describes as an "open Brexit", which prioritises free trade and country's economic interests over curbing immigration.
In her interview with Mr Harding, Ms Davidson said: "Were there to be another referendum I'd vote to remain again."
The Scottish party leader also distanced herself from the Conservative election manifesto pledges on fox hunting and winter fuel payments which are devolved in Scotland.
She said: "I didn't want to revisit fox hunting". She also spoke of not wanting to abolish the winter fuel allowance.
Ms Davidson, who is openly gay and a member of the Church of Scotland, said it was a "real sadness" that she and her Catholic fiancée were unable to marry in church.
Neither church allows same-sex couples to marry.
She said the Scottish Episcopal Church, which this year began marrying same-sex couples, had "made a bid" for the wedding, but she and her partner had declined.