History and Henry VIII at Holyrood in Brexit consent debate
Brian Taylor
Political editor, Scotland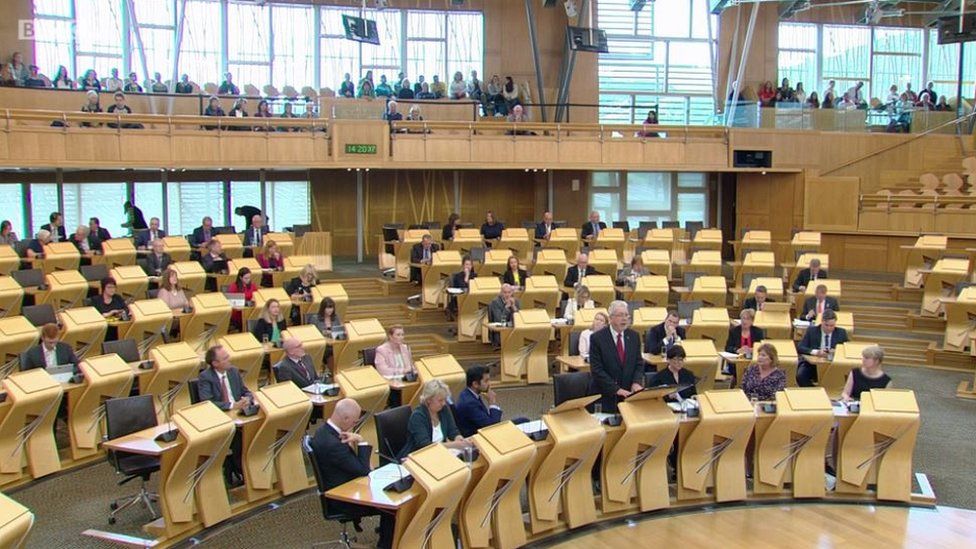 Scotland's Brexit Minister is Mike Russell. Perhaps he might be more accurately characterised as the anti-Brexit Minister or the Minister for Mitigating Brexit.
Either way, Mr Russell is a cultured individual, a prolific author indeed. He has a keen interest in Scotland's cultural, social and political history.
The UK government's approach to Scotland was, he said, a modern version of the "rough wooing". Remember? The dating scheme pursued by Henry VIII?
Lacking an app or a website, Henry VIII essayed a rather different approach when seeking to hitch his young son Edward to the infant Mary Queen of Scots. Instead of chocolates and flowers, he opted for swords and gunshot.
Henry has resurfaced as a character in the current Brexit debate. That's because he decided, after careful consideration and full consultation, that the best source of law in England was himself, rather than any pesky Parliament. He took executive powers.
It is claimed that the current EU Withdrawal Bill has a touch of Henry about it. Cynics hear Greensleeves tinkling gently in the background as they contemplate the plan to allow UK Ministers to amend EU legislation under executive orders, once that European law has been repatriated en bloc.
This, they say, is necessary to tidy up anomalies in the acquis communautaire, as translated. You know the sort of thing, continuing references to the European Union. It would be, they argue, too cumbersome to expect Parliament to deal with such matters.
Critics say ministers should not be trusted with such powers. They fear that Parliament, once bypassed, can tend to remain in that state. Perhaps they have a less than congenial view of Henry's role in history.
And Mr Russell? He reminded MSPs that Henry VIII was never a King of Scots. (Despite his best efforts, he might have added - but didn't.)
However, he detected a dose of the "rough wooing" in the approach being adopted by the present UK government.
This is a parallel version of the Henry VIII powers controversy. As billed previously, the UKG see powers returning as a whole to Westminster. Including EU powers which impinge upon devolved matters, the province of Holyrood.
They would then set out plans to devolve various elements of that power grouping to Holyrood, while assiduously preserving a common legal framework for the UK, mirroring the current EU umbrella.
Not remotely a power grab. Simply sensible arrangements. Vital for farming, trade and industry. Indeed, the Scottish Secretary David Mundell this afternoon said talk of grasping powers was "nonsense".
Mr Russell is unimpressed. He wants a guarantee of devolved powers - while offering to co-operate fully on forming a pan-UK framework. By agreement.
For now, Mr Russell said the SG could not consent to the EU Withdrawal Bill. Instead, they would suggest amendments to it. Failing that, they would stand ready to prepare their own emergency legislation to plus any gaps caused by Brexit.
This matters - even although the Supreme Court reminded us that the convention permitting consent motions was just that, a convention. The UK government could ignore it.
However, they don't want to do that. They want to build consensus. They don't want - another - fight. Right now, they've got one.
Related Internet Links
The BBC is not responsible for the content of external sites.