Justice secretary defends 'strong' Police Scotland leadership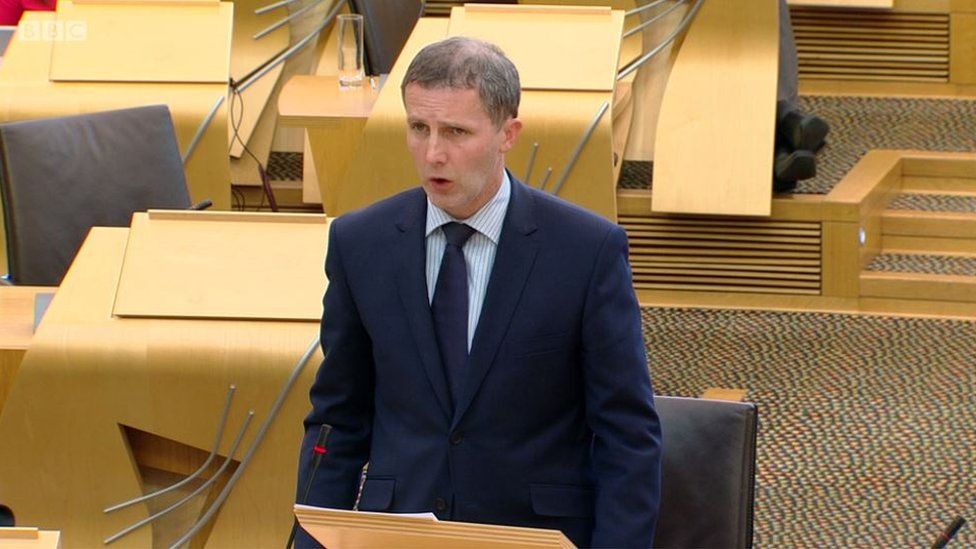 Police Scotland has a "strong and resilient command team in place" despite its chief constable going on leave, the justice secretary has said.
Phil Gormley has stepped aside while allegations of gross misconduct against him are investigated by watchdogs.
However, Michael Matheson told MSPs that the success of the force "does not rely on one individual".
Opposition parties said there had been a "catalogue of failures" and a "vacuum of leadership" in the police service.
Mr Gormley first came under investigation by the Police Investigations and Review Commissioner (Pirc) over allegations of bullying in July.
He initially stayed on in his role, but stepped aside on Friday after further allegations of gross misconduct were made against him - a move First Minister Nicola Sturgeon said was the right decision.
This came shortly after the chairman and chief executive both announced they were leaving the Scottish Police Authority (SPA) board.
Mr Matheson said there was "no ministerial involvement" in Mr Gormley's decision to step aside, insisting that it was a request from the chief constable himself which was considered by the SPA.
And he said that after senior deputy chief constable Iain Livingstone decided to postpone his retirement, the force had a "strong and resilient command team in place".
He said: "The success of Police Scotland does not rely on one individual, but on a strong and experienced senior leadership team and on the professionalism and dedication of many thousands of police officers and staff at all levels.
"Police Scotland, as the second biggest force in the UK, has a breadth and depth of experience that is almost unparalleled."
Mr Matheson also told MSPs that officials were examining ways of giving them a say in the appointment of the next SPA chair.
The board, which oversees the work of Police Scotland, is searching for a new chair after Andrew Flanagan resigned amid a flurry of criticism from Holyrood committees. He is currently staying on until a successor is appointed, something Mr Matheson said would happen as soon as possible after interviews scheduled for October.
Opposition parties banded together to call for the parliament to be given the authority to make the appointment.
Mr Matheson said he was "not unsympathetic", and was looking for ways to involve MSPs, but noted that there was a statutory requirement on ministers to appoint the chair.
He said studies were ongoing to find some way of involving parliament which would be "compatible with the code of practice for ministerial appointments to public bodies in Scotland".
Scottish Conservative justice spokesman Liam Kerr said the time had come for Mr Matheson to "step up and take responsibility" for the situation at Police Scotland and the SPA.
He added: "I would like to thank all of our officers and staff for their continued professionalism and dedication during this time of uncertainty, but there have been a catalogue of failures both at Police Scotland and the SPA since the single force was created."
Scottish Labour MSP Clare Baker said there was a "vacuum of leadership" in the police service.
She said: "In the four years of Police Scotland this government has lost two chairs, a chief executive and we are now on our third chief constable.
"The past year we have seen critical report after critical report which has culminated in the vacuum of leadership we are now facing. It's a disgrace that Scotland's police force has reached this state of affairs under the SNP's watch."
Green MSP John Finnie, himself a former policeman, said the leadership team at Police Scotland was "sound", but said the same could not be said of scrutiny at SPA level.
And Lib Dem MSP Liam McArthur said the statement could be summed up as "crisis, what crisis?"
Related Internet Links
The BBC is not responsible for the content of external sites.