SNP MSP John Mason claims Skye is not a 'real island'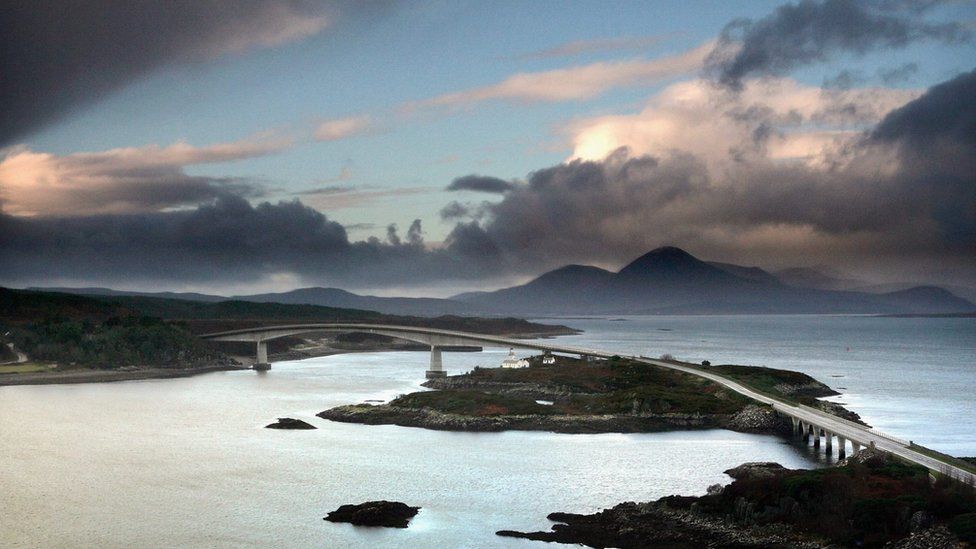 SNP MSP John Mason has questioned whether Skye is a "real island" because it has a bridge to the mainland.
The Glasgow Shettleston representative made the claim while Holyrood's rural economy committee was examining the Islands Bill.
He questioned why Skye should be included as it does not have transport issues which "real islands" do.
Government officials confirmed that Skye was "definitely" included in the bill as an inhabited island.
MSPs are scrutinising legislation which aims to offer greater powers to island local authorities and ultimately create a sustainable future for Scotland's islands.
During a meeting with officials from the bill team, Mr Mason asked: "Was it unanimous that something like Skye should be included? It says that bridges are ignored, but surely Skye doesn't have the problems of ferries and transport which real islands do?"
Committee convener Edward Mountain replied: "I'm sure we'll all agree that Skye is a real island".
Darren Dickson from the Islands Bill team said the issue was "quite surprising", adding that Skye was "definitely" listed as an inhabited island.
He said: "We've actually had it asked of us three times whether Skye is covered by the bill - people obviously aren't reading the explanatory notes very clearly because it's quite clearly stated that Skye is included."
Skye MSP Kate Forbes later said that she was "sure John knows that Skye is an island", noting that "otherwise we would have to rewrite the Skye Boat Song".
She added: "Ferry and transport problems are the tip of the iceberg, and there is a huge amount of work to do on the roads infrastructure for tourism, not to mention affordable housing and connectivity.
"That's why I'm so pleased the Scottish government is bringing forward the Islands Bill, as it will make a huge difference to places like Skye."
Mr Mason has previously voiced similar views, stating during a debate on island communities in November 2016 that Skye "cannot be an island because it now has a bridge to the mainland".
There have also been previous debates over island status, such as in 2011 when Argyll and Bute Council faced a budget reduction of £400,000 after the Scottish government ceased to classify Seil, linked to the mainland via the Clachan bridge, as an island.
The 2011 census listed Skye as an "inhabited island", and the Islands Bill itself stresses that it defines an island as "a naturally formed area of land which is surrounded on all sides by the sea (ignoring artificial structures such as bridges) and above water at high tide".
Mr Mason's comments came on the same day as a row over hospital staffing on Skye.
NHS Highland has suspended out-of-hours emergency medical services at Portree Hospital due to staff shortages, a move criticised by local politicians.
The health board said staff absences and a vacancy in the rural support team, which provides out-of-hours care to the north of Skye, meant the hospital's urgent care centre in Portree had to be closed at 18:00 on Tuesday.
NHS Highland said efforts to find personnel from elsewhere, including from agencies, had been unsuccessful and it had no option but to move the out-of-hours service 25.6 miles (41.2km) away to Broadford Hospital until Thursday.
Last month, NHS Highland also suspended new admissions at Portree Hospital because of staff shortages.
Skye, Lochaber and Badenoch MSP Ms Forbes has described the situation as "utterly unacceptable" with the temporary out of hours closure being "another step in the wrong direction".
Related Internet Links
The BBC is not responsible for the content of external sites.