Tory MSP Alexander Burnett admonished by standards committee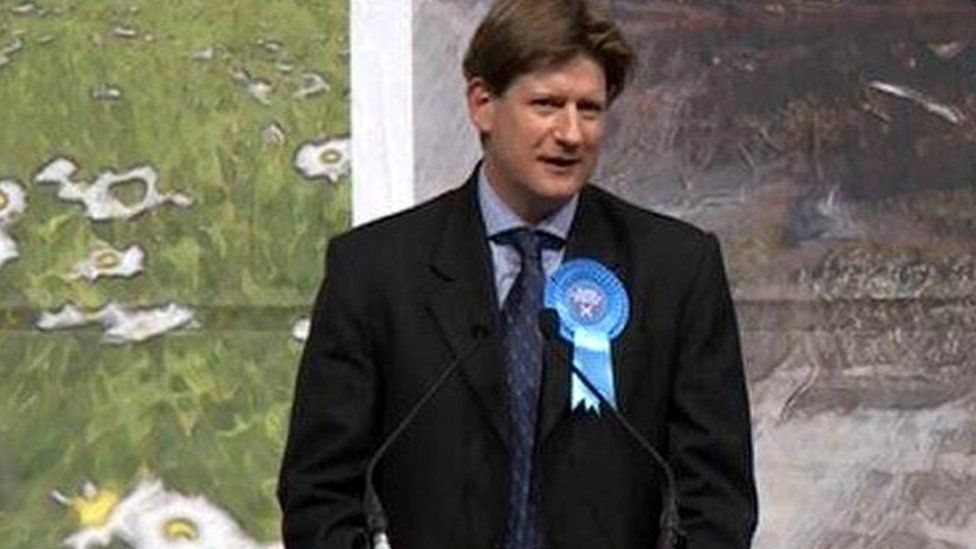 A Conservative MSP has been admonished by Holyrood's standards committee for failing to declare business interests while lodging parliamentary questions.
Aberdeenshire West MSP Alexander Burnett did not declare financial interests in two written questions.
The standards committee said they were "minded to be lenient on this occasion" but warned they would consider sanctions for any future breaches.
They urged MSPs to declare interests for all parliamentary proceedings.
Mr Burnett said he had penned questions to the Scottish government after two businesses in his constituency attended one of his surgeries and raised concerns over the "huge increases" in business rates affecting the north east of Scotland.
But the MSP failed to declare that he personally owned businesses in the area which were also facing rates rises.
Mr Burnett is the director and chairman of a property development and letting company in Banchory, and the owner of what he describes as a "property leasing and forestry undertaking".
He also owns an estate with a market value of about £10m.
Following a formal complaint by SNP councillor David Aitchison, Mr Burnett wrote to the Commissioner for Ethical Standards in Public Life in Scotland saying the omission was due to "a genuine error" by a new member of his staff.
Mr Burnett wrote: "These questions were submitted for the benefit of my constituents, however a genuine staff error meant that the tick box 'I have a registered interest' was not selected when it should have been.
"I of course take full responsibility for my new member of staff and she has now had training from the Chamber Desk."
He also claimed the complaint was an attempt by the SNP to "impede my abilities to represent my constituents and waste public time and money".
Standards committee convener Clare Adamson, an SNP MSP, said the breach did not justify the imposition of sanctions.
But she added: "The committee believes that the declaration of registered interests in any matter before taking part in proceedings of the parliament relating to that matter represents an important aspect of parliamentary transparency and accountability."
Related Internet Links
The BBC is not responsible for the content of external sites.