Sturgeon promises to back fire service over staff concerns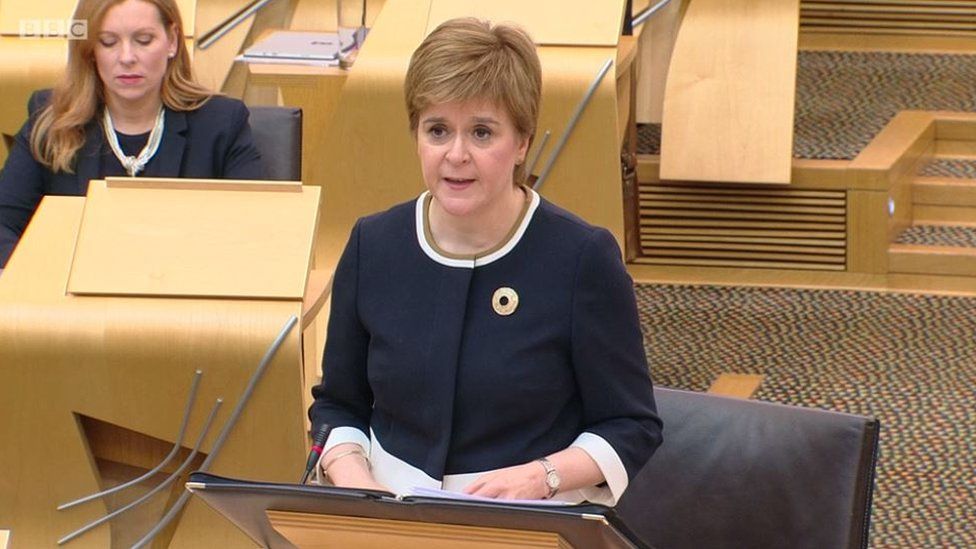 Nicola Sturgeon has promised to back Scotland's fire service amid concerns over budgets and staffing.
Three months on from the Grenfell Tower fire, Holyrood's housing committee was told that the number of fire safety officers had fallen by 25% since 2013.
MSPs heard evidence from the Fire Brigades Union that "year-on-year cuts" make it "very difficult to cope".
The first minister gave an "absolute assurance" that she would "protect those who keep us safe from fire".
However opposition politicians said her assurances did not go far enough and did not categorically rule out job cuts.
Ms Sturgeon also pledged to look at "all relevant options" for improving fire safety in Scotland following the Grenfell fire, including more "intrusive" checks of high-rise buildings.
On Wednesday, Holyrood's housing committee heard concerns from the Fire Brigades Union about a reduction in the number of uniformed fire safety officers, from 89 to 68.
Denise Christie from FBU Scotland told MSPs that "year-on-year cuts to our organisation" were making it "very, very difficult to cope".
She said: "We were promised that the reorganisation from the eight former brigades into the one Scottish Fire and Rescue Service would not impact on the frontline, but it absolutely is impacting on the frontline.
"And now we are seeing cuts to our fire safety inspection officers right across the country, and we're hearing from our members that they are finding it very difficult to complete fire safety inspections in the amount of time they have got to do it.
"It's really disappointing and it's really concerning to hear."
Scottish Labour's interim leader Alex Rowley put this to Ms Sturgeon, challenging the first minister to given an assurance to parliament that there would be "no further job cuts in our fire service".
He said that "despite assurances from ministers", over 700 front-line jobs had gone, citing "growing concerns about adequate staffing levels".
Ms Sturgeon replied: "I give an absolute assurance that we will continue to work with the fire service and work in dialogue with the FBU to make sure we are protecting those who keep us safe from fire.
"We have sought to do that and we will continue to work to do that both in terms of the number of fire officers and others who work in the fire and rescue service and in terms of the configuration of fire stations across our country."
The first minister said her government had increased the operational budget of the fire service by £21.7m this year, and said it was the service's own responsibility to "make sure they have the right staff doing the right jobs in the right place".
Mr Rowley replied that it was the responsibility of the government to make sure the fire service had the resources it needed.
And he said Ms Sturgeon should provide "assurances in terms of further job cuts and closures that we've not had today".
Housing committee convener Bob Doris also raised the matter with Ms Sturgeon, asking whether the "intrusive inspections" of high-rise buildings called for by witnesses would be considered.
A ministerial working group was set up to review fire safety and building standards north of the border, and a series of checks - initially focusing on buildings more than 18m (59ft) tall - was initiated.
Ms Sturgeon said the group would look seriously at all ideas brought forward, highlighting intrusive checks and sprinkler provision.
She said: "We will, of course, continue to give consideration to any suggestions that are made, particularly those coming from experts in fire safety.
"Through the working group we will continue to consider all relevant measures."
Related Internet Links
The BBC is not responsible for the content of external sites.