SFA: Tory MP's Gypsy remark 'not discriminatory'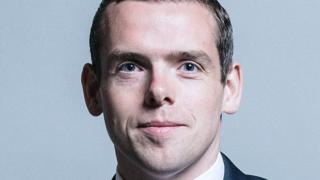 The Scottish Football Association has concluded that a Gypsy comment made by football official and Scottish MP Douglas Ross was not discriminatory.
Ross, a Conservative MP, had apologised after saying he would impose "tougher enforcement against Gypsy Travellers" if he was prime minister for the day.
The MP has welcomed the SFA's decision.
The Travellers Movement said it was "disappointed" that the SFA did not take action over "derogatory and insensitive comments".
Mr Ross, who is an assistant referee, made the remark in an online interview that was put on YouTube, which led to criticism from traveller and human rights groups who accused him of attacking a persecuted minority.
It led to the Scottish FA launching an investigation, which could have resulted in him facing a disciplinary panel.
But the SFA compliance officer determined that there was not sufficient evidence that the Moray MP had breached its rule prohibiting officials from making comments of a discriminatory nature based on race or ethnicity.
The governing body said it had reminded Mr Ross to give careful regard to its disciplinary rules whilst under their jurisdiction.
'Derogatory and insensitive'
Commenting on the decision, Yvonne MacNamara, chief executive of the Traveller Movement charity, said: "We are disappointed that the Scottish FA did not take this opportunity to show that derogatory and insensitive comments against the Gypsy and Traveller community will not be tolerated."
Mr Ross told the Scottish Daily Mail that he was looking forward to drawing a line under the matter.
He said: "I'm glad the SFA has found that I did not breach any rules.
"The association did remind me about the use of certain language, something I immediately acknowledged and apologised for after the original interview was aired."
Scottish Greens MSP John Finnie said he was not surprised that the "blazerati at the SFA have decided there's nothing wrong with one of their own, Douglas Ross's deeply offensive remarks".