Scottish teacher recruitment issues 'not unique'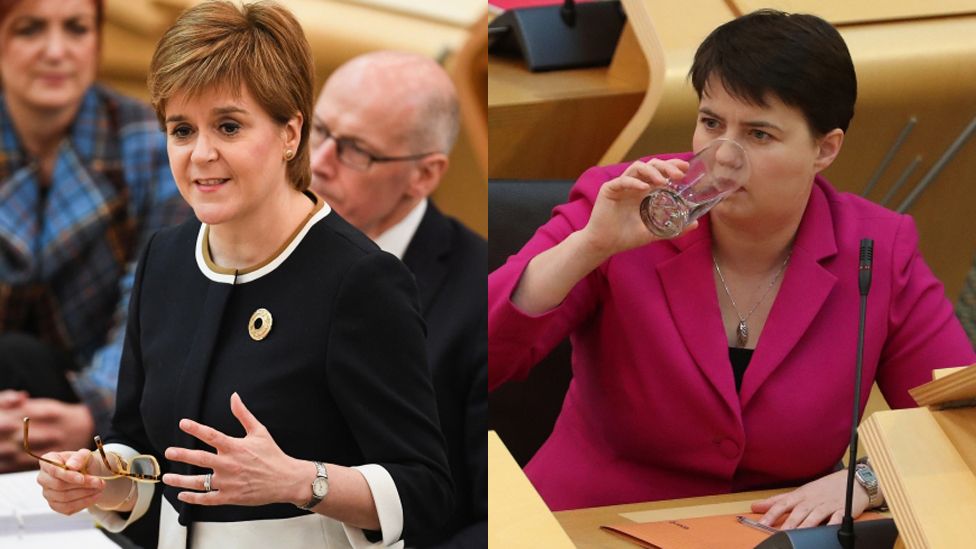 Nicola Sturgeon has acknowledged the difficulties some schools are facing in recruiting teachers - but insisted the challenges are not unique to Scotland.
The first minister was speaking as the Scottish Conservative leader warned of "crippling" teacher shortages.
It emerged on Wednesday that a shortage of maths teachers had forced the head at Trinity Academy in Edinburgh to appeal to parents for help.
Challenging Ms Sturgeon at Holyrood, Scottish Conservative leader Ruth Davidson claimed that there were now "4,000 fewer teachers on her watch, 40% of Scottish teachers considering retirement over 18 months, hundreds of qualified teachers being held up from getting into classrooms because of this government's bureaucracy."
But Ms Sturgeon told MSPs: "You always know when Ruth Davidson has lost the plot at First Minister's Questions because we just get the angry waffling in place of a question."
She stressed problems with teacher recruitment were not unique to Scotland, and insisted the government had put in place measures to deal with the problem.
The exchange at First Minister's Questions came as Ms Davidson said there were more than 550 teachers who had qualified outside of Scotland and who had been told they could not take up a post north of the border.
She said the Tories wanted those who had trained as teachers elsewhere to be "fast-tracked" into Scotland's classrooms.
She raised the example of a couple who moved to Scotland, saying the man had been told to "go back to school" and retrain before taking a teaching post, despite having worked in England as a maths teacher for 15 years.
But Ms Sturgeon pointed out that the case highlighted by Ms Davidson was from five years ago.
She added: "Since then - and this is the bit I would have thought Ruth Davidson, if she was going to raise this today, might have actually have been aware of - the General Teaching Council for Scotland has introduced provisional conditional registration, which allows teachers qualified outside Scotland to become registered and to take up a teaching post in Scotland while they work towards meeting the minimum requirement."
Analysis by Jamie McIvor, BBC Scotland education correspondent
Are the standards required by the General Teaching Council for Scotland actually making it harder to recruit teachers or fill vacancies?
The GTCS stresses that it welcomes applications from people who qualified outside Scotland.
Most people who teach in schools in the rest of the UK would have no difficulty meeting its conditions.
Generally speaking, if someone's qualifications meet the GTCS standard they will either join the register or be provisionally registered. Once they have successfully completed their probationary period they achieve full registration.
But an issue arises with a minority people of teachers south of the border who entered the profession and worked as teachers without obtaining an actual Postgraduate Certificate of Education - for example through some schemes where new teachers learnt on the job.
A specific problem was noted in Moray which has faced ongoing teacher recruitment problems. People living locally who had been in this very situation found they did not meet GTCS standards.
The GTCS has since set up a pilot scheme which allows so-called "conditional registration" - they can register to teach but need to top up their qualifications to normal GTCS standards, usually within three years.
Any move which appeared to represent a relaxation of standards by the GTCS would be strongly resisted by the main unions and many within the profession.
However, as the unions and the wider profession are major stakeholders in the GTCS it is hard to see how any scheme which was resisted by the profession would receive the organisation's backing.
The first minister added: "Ruth Davidson asks me why haven't we fixed that. Well I'm afraid Ms Davidson the answer is we have, you just didn't bother to do the research to find out.
"That individual, while he would not have been able to teach in 2012 may now be in a position to do so, which is why we will now be contacting that individual to see if he wants to take up a teaching post.
"That is a change in circumstances that frankly I'm quite gobsmacked Ruth Davidson didn't bother to find out before she came here today."
But Ms Davidson claimed that the response was "smoke and mirrors" from the first minister, saying the change had not been brought in as yet.
"This was only talked about by the General Teaching Council in May of this year and hasn't been brought through yet, so it's smoke and mirrors," the Conservative leader said.
The first minister said: "We have increased student teacher intakes for six years in a row. Back in 2011 the intake to student teaching was 2,297. In the most recent year it was over 4,000.
"We had 231 more newly qualified probationer teachers starting the induction scheme in August compared to the previous year."
Ms Sturgeon also highlighted measures including the launch of the next phase of the teacher recruitment campaign, a national approach to support the recruitment of teachers from outside of Scotland, and a specific campaign for head teacher recruitment.
She added: "And of course we are also finalising right now the specification for a new route into teaching to help us even further to attract teachers particularly to parts of the country or to particular subjects that are under pressure.
"These are the range of actions we are taking to tackle a challenge that is in no way unique to Scotland."
Liberal Democrat leader Willie Rennie said teachers in Scotland are "on the edge" and called for a review of their pay and conditions similar to the McCrone inquiry in 2000.
Ms Sturgeon replied: "I don't actually think the right thing to do is embark on a review that could take years to undertake and to complete.
"I think the better thing to do is to take the actions, the hard tangible actions, that we are taking right now."