FMQs: making a spectacle
Brian Taylor
Political editor, Scotland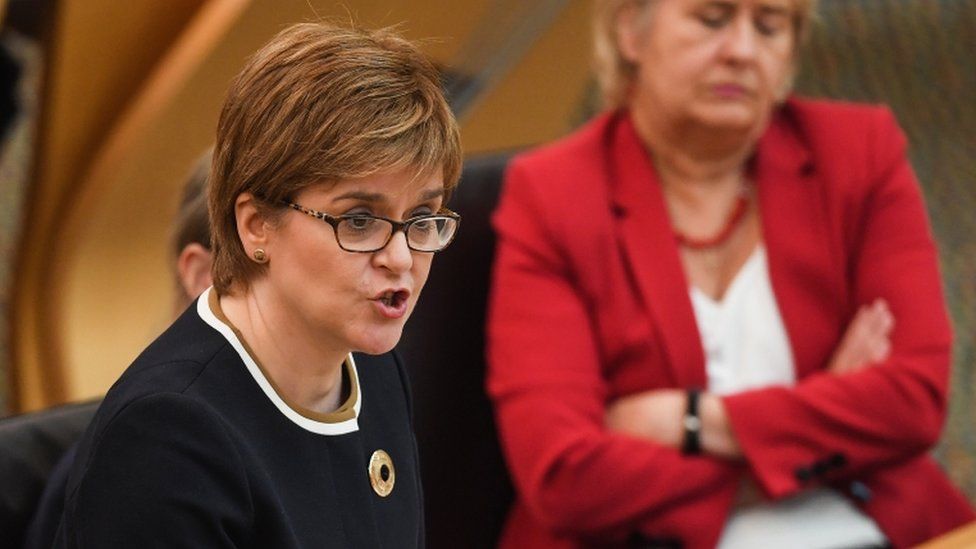 Questions to the first minister frequently provide a spectacle for the viewing public. Contrary to opinion in some quarters, that is not their sole or even prime purpose.
Today the fascination lay in spectacles. Plural. When I was at school in the great and noble city of Dundee, we called specs "owls". Contact lenses were "secret owls".
I cannot for the life of me think why I shared that with you. But there it is. Plainly, I am well into my anecdotage.
Anyway, moving on, the FM resorted to owls at key moments today. Notably, when she was in sombre exchanges with Labour's Alex Rowley.
By contrast, Nicola Sturgeon opted to face Ruth Davidson of the Tories unadorned, visually shorn. The difference derived from the nature of the discourse.
There is a scene in "Father Ted" where sundry priests and others are unwisely encouraged to put in the time with a competition as to who can shout the loudest. Ms Davidson and Ms Sturgeon plainly feel it is time the game was revived.
Ms Davidson depicted a Scotland where schools are virtually bereft of maths teachers, where pupils are wandering the corridors plaintively seeking someone, anyone, who can instruct them in calculus or quadratic equations.
In response, Ms Sturgeon fessed up. A little. Yes, there were problems with teacher recruitment - but the "biggest threat" in that regard came from Brexit because it would place constraint on gifted mathematicians from Europe who are anxious to teach here.
Ms Davidson called that "the most pathetic excuse" she had ever heard. Plainly, Ms Davidson has never faced a classroom of self-exculpatory kids providing explanations as to why they have forgotten their trig homework.
At this point, the volume rose discernibly. Ms Davidson said there was a "crippling shortage" of teachers - then decided to show her working.
She had received an email from a maths teacher with umpteen years experience who had sought to move north of the Border - and had been advised that he would have to undergo a full year of teacher training first.
However, Ms Sturgeon got the memo too. The case, she said, arose in 2012. Since then, the General Teaching Council had changed the rules. Experienced applicants could start teaching, while catching up on their Scottish training qualification.
Ms Sturgeon's specless demeanour was, in essence, Yah, Boo - and also Sucks. She resumed her seat like a triumphant trial lawyer who has just produced a cast-iron alibi for her hapless client.
If Ms Davidson was at all disquieted, she recovered right speedily. The change, she said, had only been introduced in May. By contrast, she said, the SNP had a miserable record throughout ten years in power.
Ms Sturgeon's retort? You could always tell, she said, when Ms Davidson was losing it. She resorted to "angry waffling."
Later, there were comparably sharp exchanges with Willie Rennie of the Liberal Democrats. He too depicted a Scotland deprived of maths teachers and desperate to remedy the gap.
Mr Rennie suggested that there should be a new McCrone Report, referring to the study into professional conditions of service for teachers published in 2000, just after the creation of the Scottish Parliament.
McCrone Two, anyone? Not Nicola Sturgeon, certainly. Rather brusquely, she said she would rather take action now than wait aeons for an advisory study to conclude.
No doubt, she took her lead from Harold Wilson who said of Royal Commissions that they "take minutes and waste years".
Sometimes, to be frank, governments can welcome such delays. Time to gather thoughts. Or simply let a furore die down. Not, it seems, on this occasion.
And the spectacles? Ms Sturgeon put them on when dealing with the intensely sensitive topic of the Grenfell fire tragedy and any possible lessons therefrom. Plainly, she wanted to consult her notes and consider her exact words very carefully.
She was asked about this by Labour's Alex Rowley. He was concerned at cuts in the fire service in Scotland. Ms Sturgeon sought to offer reassurance.
A number of commentators have noted that Mr Rowley's oratory is a little sub-Ciceronian. That is true, but he has a style of his own. Persistent, substantive, thorough. Concerned at all times to improve the governance of Scotland, if he can, by prodding the elected administration.
Don't get me wrong. There is definitely a place for both styles. For rhetoric and scrutiny. For questions which get the FM riled and questions which have her reaching for her owls.