Scottish NHS staff seek 3.9% pay rise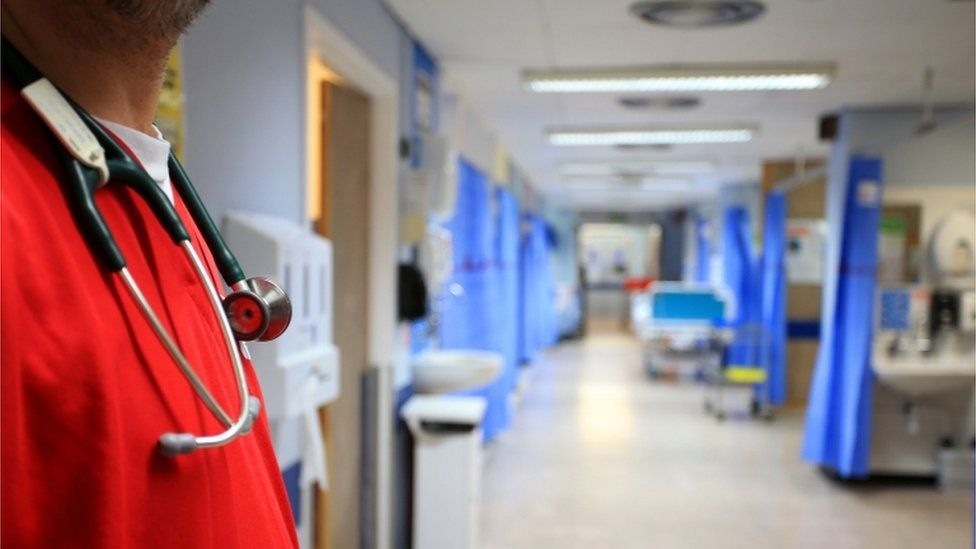 Scottish NHS workers have joined colleagues from across the UK in calling for a 3.9% pay rise and an extra £800.
Trade unions said the rise was needed to reverse real-terms cuts in wages in recent years.
They argued that pay for NHS workers has fallen by 15% since 2010 once inflation is taken into account.
The unions will formally submit the claim to the NHS pay review body and Scottish government next week.
The first minister said future pay rises would be based on the cost of living - but stressed they would also need to be affordable.
The UK's consumer price index (CPI) inflation rate, which does not take into account housing costs - such as council tax and mortgages - stands at 2.9%.
The unions have also called for an additional £800 to restore some of the pay lost over the past seven years, which saw pay for public sector workers across the UK initially being frozen and later capped at 1%.
The pay claim includes cleaners, nurses, radiographers, pharmacists, midwives, medical secretaries, paramedics, therapists and dental technicians, as well as caterers and porters.
But the British Medical Association, which represents doctors, did not put its name to a letter that was sent to the devolved governments and the UK chancellor calling for the pay rise.
The cost of the pay rise, which the unions want implemented from next year, is said to total £2.5bn across the UK.
Willie Duffy, head of health for Unison Scotland, said it and the other NHS unions will formally submit the claim to Scottish NHS employers next week as part of ongoing evidence to the NHS pay review body and Scottish government.
He added: "In line with health unions across the UK, we will asking for a pay rise in line with inflation (retail price index) and we will be attempting to recover past losses."
A Scottish government spokeswoman said: "NHS employees are the health service's most valuable asset, and we value their contribution enormously.
"Public sector workers both in Scotland and across the UK deserve a fair deal, and we will deliver a pay policy that is both affordable and recognises real life circumstances."
The UK government announced last week that it is lifting the pay cap in order to give police officers in England and Wales a 1% rise plus a 1% bonus, with prison officers getting a 1.7% rise - both funded from existing budgets.