Anas Sarwar 'wants to be next first minister'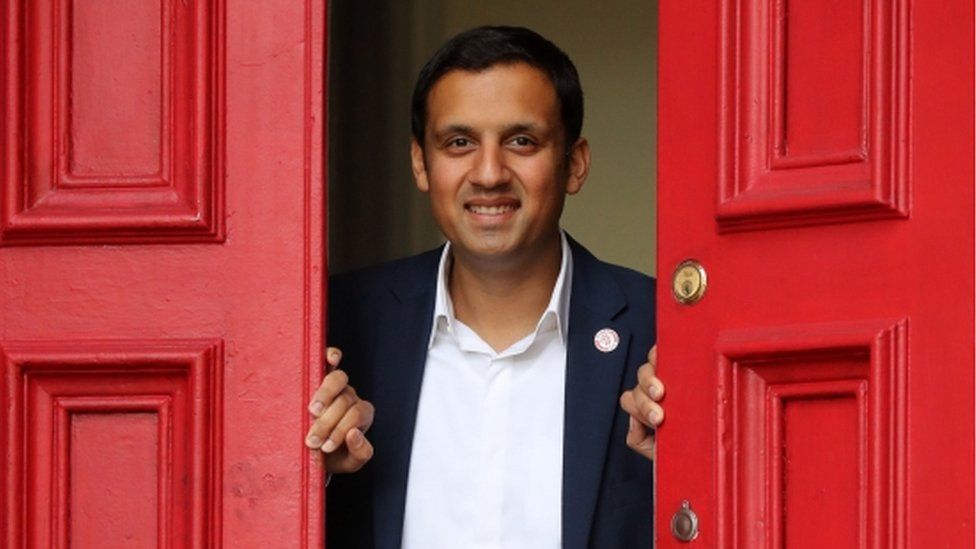 Anas Sarwar has formally launched his Scottish Labour leadership campaign bid by claiming the contest was about "electing the next first minister".
Mr Sarwar, who was previously the party's deputy leader, said he wanted to "deliver equality" rather than simply talking about fighting for it.
And he warned the SNP that Labour was "parking our tanks on Nicola Sturgeon's lawn".
Fellow MSP Richard Leonard is also standing in the leadership contest.
Mr Leonard, who will launch his campaign on Saturday, is on the left of the party, while Mr Sarwar is seen as being more centrist.
Speaking at an event in Ms Sturgeon's Glasgow Southside constituency, Mr Sarwar said voters in the Labour contest had a "choice of just protesting about the ills in our country, or choosing a leader who can defeat inequality as the next first minister."
The former MP added: "We have a choice to continue to divide, or to bring our party and our country together.
"I don't want to be a Scottish Labour who just talks about fighting inequality, creating opportunity and building a fairer society. I want to deliver that equality, opportunity and fairness as the next first minister of Scotland.
"That is why here in the Gorbals, at the start of this campaign, we are parking our tanks on Nicola Sturgeon's lawn. This campaign is not just about electing a Labour leader, it's about electing the next Labour first minister."
Labour is currently the third largest party at Holyrood behind the SNP and Conservatives.
Mr Sarwar also set out a series of policies he would pursue as leader, including:
An action plan to rescue the NHS on day one of a Labour government, including more training places and a clampdown on agency spend
A commission to end the gender pay gap in society
Topping up child benefit to lift thousands of children out of poverty
Mr Sarwar previously signed a letter opposing Jeremy Corbyn's bid for re-election as Labour leader, but is expected to pick up the backing of many Scottish Labour MSPs, MPs and MEPs.
Mr Leonard, meanwhile, is the favoured candidate of Mr Corbyn's supporters - with the former GMB official expected to be backed by all of the major trade unions.
He said at the time that he is a minority shareholder in United Wholesale Scotland, and does not play an active part in the running of the company.
He added: "I strongly believe all companies should pay the real living wage, and have received assurances that UWS has an ambition and desire to pay it."
Party members and affiliated supporters and registered supporters will be able to take part in the leadership election.
People can register as supporters following the payment of a one-off fee of £12.
The process will also include eight regional hustings, as well as a Women's and a Young Persons' hustings.