Richard Leonard says people are 'hungry for change'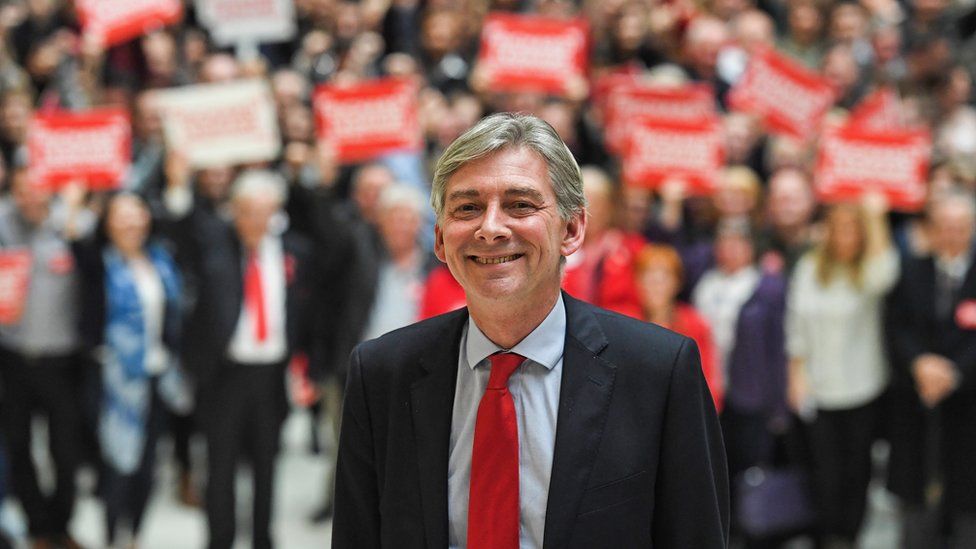 Richard Leonard has formally launched his campaign for the Scottish Labour leadership with a claim that people are "hungry for change".
The former GMB union organiser, who was elected to Holyrood in 2016, said that change would be found not in "nationalism or patriotism" but in "socialism and democracy".
He said he would bring "radical policies for the many not the few".
He said he wanted to "deliver equality" rather than simply talking about fighting for it.
Mr Leonard is on the left of the party, while Mr Sarwar is seen as being more centrist.
Mr Leonard formally launched his leadership bid at a rally at City of Glasgow College, where he promised to pursue policies including the introduction of tough rent controls and a workers' right-to-buy should he be elected.
The Central Scotland MSP also vowed to take forward an industrial strategy which considers public ownership in the railways, Royal Mail, renewable energy and oil and gas.
And he firmly ruled out any prospect of a coalition with the SNP, telling his audience that "there will be no ground ceded to nationalism at the expense of progressive socialism under my leadership".
Promising a prospectus based on "our timeless Labour values of solidarity, of democracy, of equality and of justice", he said: "We need to give people a sense of hope, out of despair.
"A real change built on substance not style. With democratic socialist principles and policies not managerialism."
Like his rival Mr Sarwar, he has set his sights on becoming first minister at the next Holyrood elections.
"I want our party to win - with the ideas, the policies, the votes of the people of Scotland - for a purpose," Mr Leonard said.
"And when we win, we will not just talk, we will do what Labour has always done - we will act and make the lives of our people better.
"We will rediscover our ethical socialist roots. We will reach out once more to working people through their trade unions and in their communities."
Mr Leonard said that 20 years on from the devolution referendum people "have every right to be angry".
"No wonder people are discontented. They are hungry for change," he added.
"But the change they crave will find no answer in nationalism or patriotism, Scottish or British, and every answer in socialism and democracy."
Labour is currently the third largest party at Holyrood behind the SNP and Conservatives.
Mr Leonard is the favoured candidate of Mr Corbyn's supporters - with the former GMB official expected to be backed by all of the major trade unions.
Mr Sarwar previously signed a letter opposing Jeremy Corbyn's bid for re-election as Labour leader, but is expected to pick up the backing of many Scottish Labour MSPs, MPs and MEPs.
At his campaign launch on Friday, Mr Sarwar said voters in the Labour contest had a "choice of just protesting about the ills in our country, or choosing a leader who can defeat inequality as the next first minister."
Party members and affiliated supporters and registered supporters will be able to take part in the leadership election.
People can register as supporters following the payment of a one-off fee of £12.
The process will include eight regional hustings, as well as a Women's and a Young Persons' hustings.