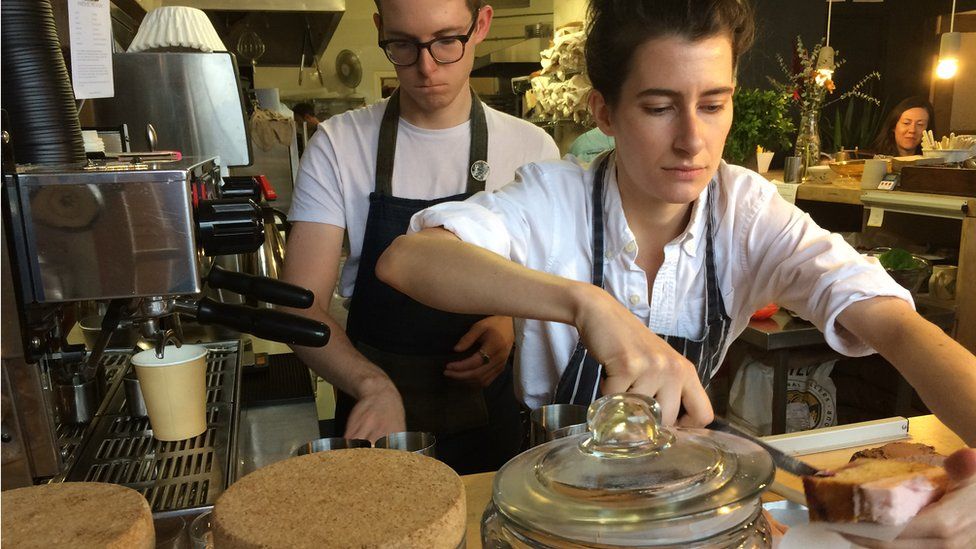 Imagine you have a hobby, a passion, and a dream of making it into a successful business.
Just suppose it happens to blend with a Great British vogue for baking, leavened by a runaway TV success.
So you knock on doors, and sell to neighbours. You set up a shop. It does exceptionally well. You take on staff. You get more wholesale orders than you can handle.
Your bakery business is achieving far beyond your expectations. So what do you do?
Borrow money and expand it, with a better location or another outlet, taking on more staff? Bring in another investor who can free up some of your equity?
Do you sell up, trouser the money, and move on to the next thing? Another dream, another start-up, or a yacht to sail the world?
Or do you simply lock the door, and walk away - not because the bakery has been been a failure, but because it's been too much of a success?
Anna and Sam Luntley are taking the latter option. In the kitchen of their home in the southside of Glasgow, they set up Bakery47 six years ago, selling door-to-door.
The shop and cafe came three years later, in a location with very poor footfall, facing on to derelict land and with few cars passing.
Word-of-mouth and the aroma countered that. Customers travel from out of town, and queue before opening time to get the pick of the croissants.
This Saturday, there were more than 80 people waiting, several for more than an hour. Late risers have a much depleted choice of cakes and breads.
The duo like the creativity of baking, trying new combinations, often riffing around pecan, pistachio, almonds, gingerbread, beetroot, yoghurt, rosewater, coconut, herbs and cheeses.
For instance: scones combining Earl Grey with pear, thyme with Gruyere, or bramble, white chocolate and pecan; spelt and sesame soda bread; raisin rosemary country sourdough; rhubarb custard bread pudding loaf; fig amaretto crumble loaf cake; blackberry cinnamon Bakewell tart; Balvenie single malt brownie.
It's been every bit as tasty as it sounds, and quite pricey too. They don't skimp on the quality of ingredients.
Sometimes, all that's left by lunchtime is a Marmite and cheddar scone. And once sold out, they shut up shop.
This Sunday, they're shutting up for the last time, walking away from their success. They were too busy to talk on radio or TV about it, saying their website has all they want to convey. And this is what it says. I'll quote it at length - because, well, it's interesting.
"Bakery47 has always been a project, a work in progress. It grew out of our artistic practice.
"Our baking functioned as a medium through which to satisfy our creative desires: to engage with our interests in the significance of both social ritual and of the everyday, in the value of community, tradition and home.
"Through our bread and our cakes, we aim to celebrate the value of both familiar routine and of marking each day as different. Our practice is a dedicated one - we aim for high quality craftsmanship, tireless and obsessive production, and an honest and personal approach".
The Luntleys continue: "We never meant for bakery47 to become a 'business'. A key part of the thinking behind what we do is a desire to counter the commercially driven culture in which we live and instead to offer something more honest - something which will encourage people to question the expectation to always have what we want, when we want it, and to often not consider what has gone into the goods we consume - physically but also emotionally and mentally.
"We want to reinstate value in the hands of the maker, to increase people's care for the things they eat, drink, share and celebrate".
The bakery is "us and we are it", they say. "We don't want bakery47 to expand, we don't want to step back and we don't want to sell 'the business', because in our understanding bakery47 is a happening, an experience, an endeavour.
"We are the hands that make, create and provide, and as we want the time, energy and focus to explore other means of doing what we do, the bakery in its current form can't go on.
"We will continue to bake but we want to find a new format for that - to reinvest our energies and ideals - so rather than let the bakery at 76 Victoria Road be compromised, we will close."
Other formats could be a baking school, possibly as a retreat, like an ashram to help pupils understand the gurus' lifestyle and philosophy at least as much as their deployment of marzipan. Before then, they're touring Europe, to work and learn in other bakeries.
Scotland's economic development agencies despair at this approach. They have little interest in supporting "lifestyle businesses". They are focussed on economic growth and therefore growing businesses.
With Scotland's successful entrepreneurs, they have successfully nurtured a "go-do" culture of executing plans, of striving and achievement, adding value, bottom line and pitching for growth finance.
That's the way the economy grows, in a response to the endless striving for greater prosperity. That's how Bakery47's customers can afford to buy those delicious cakes.
But Anna's and Sam's philosophy, and their bakery's closure, are a sobering reminder that there are other paths, and other priorities in business, as in life.
Related Internet Links
The BBC is not responsible for the content of external sites.