Scottish secretary warns of Brexit powers devolution 'damage'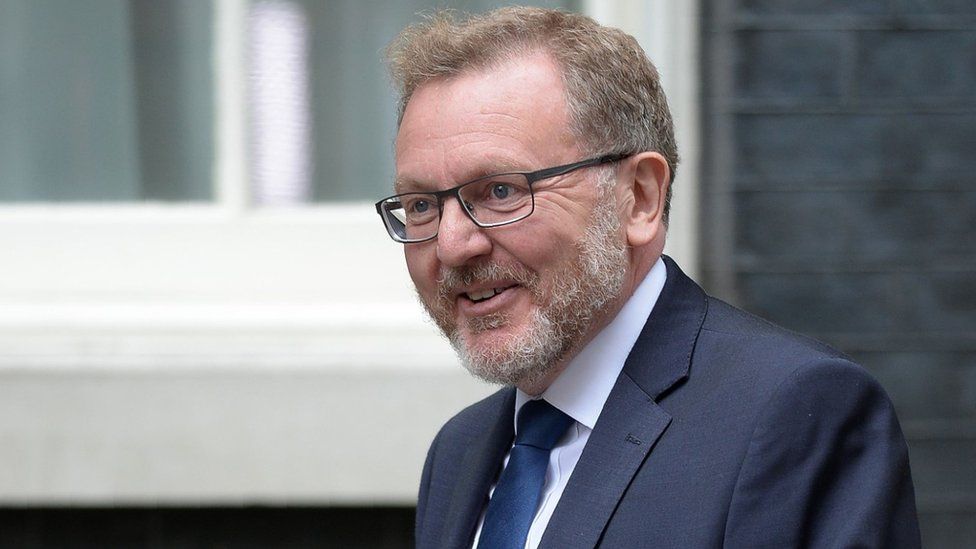 Devolving all powers brought back from Brussels post-Brexit could prove "extremely damaging" for business, the Scottish secretary has claimed.
David Mundell said that some devolved powers exercised in Brussels will have to be built into UK-wide frameworks to protect internal markets.
But the SNP said this confirmed that UK ministers plan a "power grab" of devolved competencies.
Mr Mundell made his comments in a speech in Paraguay.
The Scottish and UK governments are locked in a dispute over what happens to powers over areas like farming and fishing which are not reserved to Westminster, but which are currently exercised in Brussels rather than by the devolved parliaments.
Talks between ministers have failed to resolve the row. The Scottish government has refused to put the EU Withdrawal bill, which is currently under consideration at Westminster, forward for a consent vote at Holyrood unless changes are made.
The Scottish Conservatives have pledged to work alongside the Scottish government to see if they could back amendments to the bill which would convince ministers to bring forward a legislative consent motion.
In his speech, Mr Mundell said that some devolved powers currently exercised in Brussels would need to be built into UK-wide frameworks to prevent barriers to trade within the UK, and to safeguard the government's ability to enter into trade deals.
The UK government would look to send these powers to the devolved administrations "unless there is a reason not to".
Analysis by BBC Scotland political reporter Philip Sim
Is there a Brexit "power grab" under way or not? Scottish ministers say there is - but UK counterparts deny it. The reason it might seem like there's a contradiction here is that the two governments are talking about subtly different things.
Mr Mundell and UK ministers want to talk about the issue in terms of the powers which Holyrood already executes day-to-day, none of which will be taken away as a result of Brexit. From this perspective, any powers that come back from Brussels to Edinburgh would be an enhancement of Holyrood's responsibilities.
The Scottish government, meanwhile, views matters in terms of the original devolution settlement - that everything which is not specifically reserved is automatically devolved. From that perspective, Westminster taking on even one of the non-reserved powers currently exercised in Brussels would be Holyrood's loss, and thus a power grab.
Reconciling these two positions will be a tricky task. The devolution framework, like everything else in the patchwork of the UK's constitutional and legislative tapestry, was not designed with Brexit in mind.
And with the clock ticking on the withdrawal negotiations, the political stakes are high for both sides.
Mr Mundell said: "A common UK-wide approach to many policy areas was built into the devolution settlements. The question we need to answer now as we leave the EU is this - where do we need to retain a UK-wide approach? And where can power returning from Brussels be transferred direct to the Scottish Parliament and other devolved institutions?
"We want to find common sense answers to these questions. For us, that will mean maintaining common, UK-wide frameworks in some areas in order to protect one of our biggest assets, our UK internal market.
"I am not prepared to see barriers emerge to trade within the UK, which would be extremely damaging for Scottish firms and for business across the UK."
Mr Mundell also said that by the end of the Brexit process, Holyrood will be "more powerful than it has ever been".
The Scottish government say the current UK approach "fundamentally undermines the founding principles of devolution", wherein any powers which are not specifically reserved to Westminster are considered devolved.
SNP MSP Joan McAlpine, the convener of Holyrood's Europe committee, said the Scottish secretary had "explicitly conceded that the UK government plans to take control of devolved powers returning from Brussels".
She said: "This is a far cry from the 'powers bonanza' that David Mundell previously boasted about. It also appears to undermine his Holyrood Tory colleagues, who claim to be interested in helping to stop a power grab.
"All devolved powers returning from Brussels must come to Holyrood - anything less would breach the founding principles of devolution which people voted for.
"The Scottish government are not opposed in principle to agreeing UK-wide frameworks where powers are returning from Brussels. But that must be by mutual agreement and not imposed on Scotland against our will."
Related Internet Links
The BBC is not responsible for the content of external sites.