Rennie seeks Brexit vote backing from Scottish ministers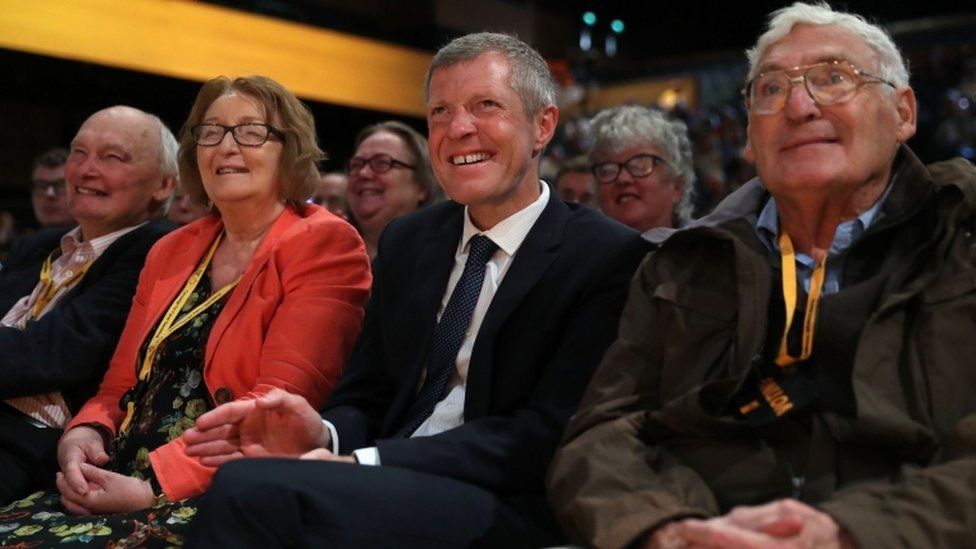 Scottish Lib Dem leader Willie Rennie is to appeal to Scottish ministers to back his party's campaign for a referendum on the final Brexit deal.
Mr Rennie said he would "open talks with the Scottish government this week" in a bid to win its support.
In his UK party conference speech, Mr Rennie said voters should be given the choice of "an exit from Brexit".
Scottish ministers have previously rebuffed calls from Mr Rennie for their backing for a second referendum.
Mr Rennie has put forward amendments calling for such a vote in several previous Holyrood debates on Brexit, but has seen them opposed by every other party.
The Lib Dems want there to be a UK-wide referendum on the final terms of the Brexit deal negotiated between the UK and the EU.
Mr Rennie told the conference in Bournemouth that their "unique stand on Brexit meets the liberal need in this age of isolation and divisiveness".
He added: "This is an exciting time to have the opportunity to lead on liberal values.
"And I can announce today that we will open talks with the Scottish government this week to ask them to back our campaign to give the people across the UK the chance of an exit from Brexit."
The Scottish government has hit out at the UK government's position on Brexit repeatedly since the referendum in June 2016, but has stopped short of endorsing Mr Rennie's call for another vote. They have instead prioritised continued membership of the European single market and the protection of devolved powers.
Mr Rennie appealed directly to First Minister Nicola Sturgeon during a weekly question in November 2016, but only drew a response that it was "nice to hear Willie Rennie talk about the benefits of referendums for a change".
He then pressed Scottish Brexit minister Mike Russell on the issue in February 2017, asking if SNP MPs would support an amendment to Article 50 legislation backing a vote on the final deal.
Mr Russell replied that he would be "happy to sit down" with Mr Rennie to discuss the matter, but said: "On the basis that forcing the issue would not win the support of the House of Commons as far as we can see - it would not be likely to win any support apart from that of the Liberal Democrats - it is important to try to go with the flow and find effective solutions rather than ineffective ones."
Mr Rennie also hit out at the SNP's record in government during his speech, predicting that they would lose office in the next Holyrood election in 2021.
He said: "On education, on police, on health their record is not something to crow about. They have no vision, a weak team and a poor record.
"People are fed up waiting on the SNP to deliver on their promises. And they will tell the SNP loud and clear - your time is up. After 14 years the SNP will lose next time."
The Lib Dem leader said his party would be "ready to win", and would put forward a programme which was "bold, ambitious and focused on changing our country for the better".
Related Internet Links
The BBC is not responsible for the content of external sites.