Scottish and Welsh governments set out Brexit bill amendments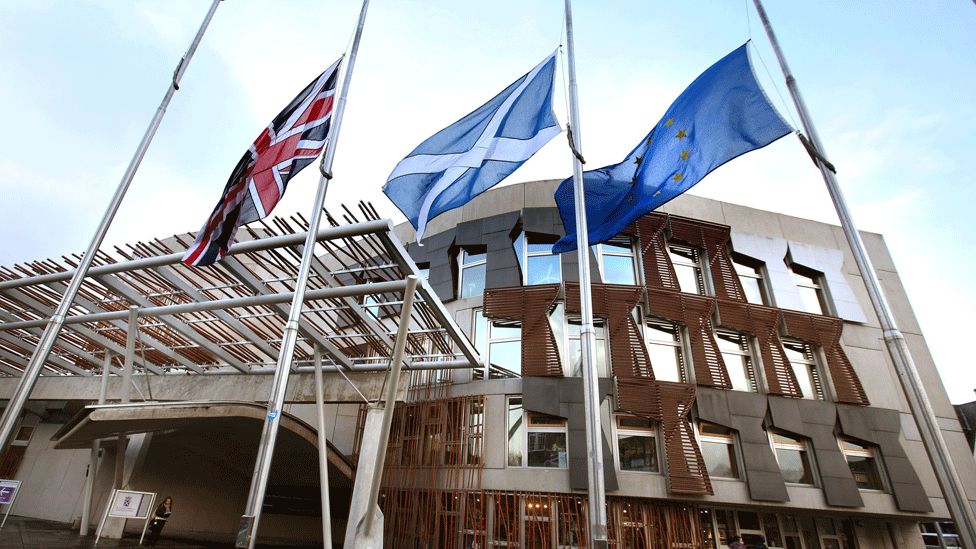 The Scottish and Welsh governments have published proposals for changing the legislation that will take the UK out of the EU.
Nicola Sturgeon and Carwyn Jones claim the EU Withdrawal Bill is a "power grab" of devolved responsibilities.
But in a letter to the prime minister, the two first ministers said their amendments would allow the bill to "work with, not against, devolution".
UK ministers deny that they are planning a power grab.
And they insist that the devolved parliaments will be enhanced, rather than diminished, by Brexit.
The UK government and the devolved administrations are locked in a dispute over what should happen to powers in areas such are fishing and farming which are not currently reserved to Westminster, but which are currently exercised in Brussels.
The current proposal in the EU Withdrawal Bill is for those powers to return to Westminster - although the UK government says its intention is that any powers which are not incorporated into UK-wide frameworks will be sent on to the devolved parliaments.
In their letter to Downing Street, Ms Sturgeon and Mr Jones said the EU Withdrawal Bill would need to be "substantially amended" for them to be able to recommend legislative consent is given by the Scottish or Welsh parliaments.
Setting out their 38 proposed amendments, they wrote: "We hope they will be received in the way they are intended - as a constructive contribution by the devolved administrations, which would enable progress to be made among the governments in a way which respects the hard-won devolution settlements of the UK."
They added that they "stand ready to work in a cooperative and coordinated way with others to prepare for Brexit", but said the UK government's approach was preventing this.
Ministers also published a list of 111 powers which the UK government has identified as "intersecting" with the devolution settlements.
These include farm support, fisheries, genetically modified crops, environmental regulations, fracking, rail franchising rules and co-operation against crime.
The Scottish government has refused to put forward the withdrawal bill for a consent vote at Holyrood until the issue of where these powers reside is settled.
The Scottish Conservatives have said they want to work with the Scottish government to see where changes could be made to the legislation, in a bid to convince them to bring forward a legislative consent motion. MSPs Jackson Carlaw and Adam Tomkins are to meet with ministers on Thursday.
Proposed amendments have already been published at Westminster, with some including Labour leader Jeremy Corbyn and Welsh nationalists Plaid Cymru also tabling efforts designed to protect the role of devolved legislatures.
Deputy First Minister John Swinney and Scottish Brexit minister Mike Russell are heading to London on 25 September for a further meeting with First Secretary of State Damian Green.
Mr Green said he hoped and expected that progress could be made in the talks, but echoed a warning from Scottish Secretary David Mundell that protecting the UK's internal markets should be the priority.
He said: "The UK government stands ready to listen to those who offer improvements to the bill - but we will do nothing that risks undermining the benefits of the UK.
"Cardiff, Edinburgh and Belfast will receive more decision making powers as a result of this process. But the UK government will not risk our internal UK market, or make life more difficult or more expensive for UK companies, workers or consumers.
"We all observe the same broad EU rules now. Doing things four different ways - in England, Scotland, Wales and Northern Ireland - will not be the best way if it adds costs to companies and customers across the UK."
Related Internet Links
The BBC is not responsible for the content of external sites.