Racist tweets councillor Robert Davies leaves Scottish Conservatives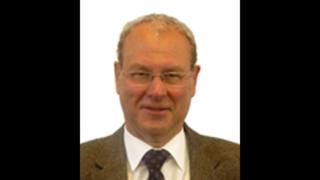 A councillor who was reinstated by the Conservatives after being suspended over offensive tweets has left the party after refusing to apologise.
Robert Davies was one of two Tories who were suspended shortly after being elected to Stirling Council in May.
He had tweeted racist posts from a Twitter account in 2013 which was subsequently deleted.
The Tories were criticised after his reinstatement last month - but said his membership had now been "terminated".
It came after Mr Davies was asked to formally apologise for his actions at a full council meeting on Thursday, but failed to do so.
The former geologist and investment banker is now sitting as an independent councillor.
His colleague Alastair Majury, who was also suspended and then reinstated by the party, remains a Conservative councillor after making an apology to the council.
When Mr Davies and Mr Majury were reinstated by the Scottish Conservatives in August, the party insisted they had both offered "unreserved apologies for any offence caused".
Scottish Conservative leader Ruth Davidson later described the posts by Mr Majury and Mr Davies as "utterly unacceptable", but insisted it was important to "give people the opportunity to change" if they say they want to.
'Full disciplinary'
She added: "As well as a full disciplinary, as well as the sanction of being suspended, as well as a full and unreserved apology, both of the individuals indicated that they had a genuine wish to change their behaviour."
But a spokesman for the party told BBC Scotland on Friday: "Mr Majury made a full apology to the council yesterday for his actions.
"Mr Davies did not do so and he has therefore had his membership of the party terminated."
Mr Davies has so far not responded to a request for comment.
---
Analysis by Stuart Nicolson, BBC Scotland political reporter
This a further embarrassment for Ruth Davidson and the Scottish Conservatives on top of the damage that had already been caused by their two new Stirling councillors.
The Tories insist that Mr Davies and Mr Majury both apologised to the party as soon as their offensive tweets came to light just days after they were elected in May.
But they say that when the pair were asked to also apologise to a full meeting of Stirling Council on Thursday, Mr Davies did not do so - and as a result is no longer a member of the party.
It has already thrust the spotlight back onto the party's handling of the affair, and in particular the wisdom of allowing the two councillors back into the fold just five weeks ago.
And it will have done little to help Ms Davidson's attempts to rebrand the Scottish Conservatives as a more progressive and socially liberal party.
---
Mr Majury had been behind a Twitter account which likened Scottish nationalists to the Nazis.
He also used his Mulder1981 account on Twitter to make derogatory remarks about Catholics, attack benefit claimants and say the SNP was too busy talking about gay marriage.
And it emerged that he had also made crude boasts on an online dating site.
SNP MSP George Adam said: "This whole affair just raises more and more questions.
"Ruth Davidson insisted that Councillor Davies apologised unreservedly for his actions and that he deserved a second chance.
"Now it turns out that he's either resigned or been kicked out of the party for refusing to apologise in the council. So exactly what apology was made in the first place? And did he jump, or was he pushed?"