Air passenger duty changes stuck in holding pattern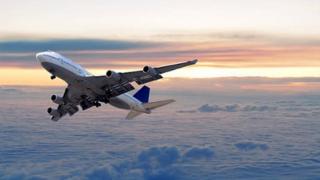 The Scottish government seems to have put its new air departure tax into a holding pattern - and these plans may be up in the air for a while.
It's blaming a legal technicality - and foot-dragging by ministers at Westminster.
The new tax has to be approved by the European Commission in Brussels, it says. Tough EU rules which ban state aid make it potentially problematic for flights to and from the Highlands and Islands being exempted from the tax.
Throw in Brexit - and it all gets very awkward.
But the Finance Secretary Derek MacKay may have other pressing reasons - practical and political - for parking this tax plan in a hangar at the far end of the airport.
Lack of evidence
The government has always argued that cutting air passenger duty will boost connectivity and strengthen the economy. But expert groups like the Royal Society of Edinburgh have asked - where's the evidence for that? They say it's lacking.
At Holyrood, the finance committee has expressed "wide-ranging criticism" over that lack of evidence.
That's makes a tax cut look risky. After all, it raised about £264m in revenue last year, at a time when the public finances felt the squeeze.
Meanwhile, Scotland's airports are doing really well without such a tax cut.
Scotland's two busiest airports - Edinburgh and Glasgow - saw record numbers of passengers for 2016. And this summer, they did even better.
Both airports had their busiest August ever. Glasgow's passenger numbers were up over 7% in a year, and Edinburgh's were up 8% in a year.
And as anyone visiting Edinburgh or Skye can testify, Scottish tourism's had a bumper year.
Higher taxes
A fall in the value of the pound - caused by the UK voting for Brexit - means international travellers coming to Scotland get more bang for their bucks.
Against that backdrop, some ask - is a tax cut for air travel really needed to boost connectivity?
Taking the plane certainly isn't the luxury form of travel that it used to be. But cutting airline duty for those who can afford to fly looks - to its critics - like unnecessary help for those who can already afford to pay.
The airline industry rightly points to how taxes on flying to and from Scotland are higher than anywhere in the world, except Chad.
But the industry doesn't get a vote in the Scottish Parliament. The Scottish Greens do. And they see this tax cut as a regressive bung to the middle classes, and one which hurts the environment.
With their support likely to be required to pass December's budget, this may be an air war the Scottish government just doesn't want to fight right now.