Holding onto that vital spark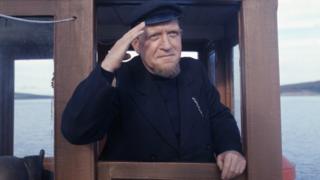 I have long been an admirer of the magnificent Para Handy tales, by Neil Munro.
They blend warm, gentle comedy with insightful narrative focusing upon the Gaelic-speaking community of western Scotland.
They can also, on occasion, take a turn towards the surreal. Think of the story where the captain takes an ill will against a previously revered parrot. Genius.
Sundry quotes from the stories still resonate with me. I recall: "Nothing to drink, only beer."
From time to time, when my family least expect it, I will come out with Para Handy's assertive declaration: "I'll buy peenies and sluppers if I like!"
(He was being gently teased about the largesse involved in his festive purchases.)
But the best is perhaps when a suspicious wife comes aboard the Vital Spark, much to the consternation of the crew.
She is, nevertheless, greeted with a cautious warmth. "Fine day". Her reply? "Fine day an' an awfu' smell o' lozenges".
Her concern is that her man and his shipmates may be seeking to mask the sweet scent of whisky with throat sweets.
I feel certain that none of our Scottish Parliamentarians faced such a dilemma today. Not before lunch, at any rate.
But perhaps they did feel the need to resort to throat pastilles, given the oratorical calamity which confronted the prime minister during her conference speech.
Vocal problems come to us all. Back in the Middle Ages, I co-presented a fine TV show called "Left, Right and Centre".
For one episode, I was interviewing Tommy Brennan, the estimable and thoroughly decent convener of shop stewards at Ravenscraig. (Ravenscraig? Huge steel plant in Motherwell? Now closed? Yes, that's the one).
My voice was slowly dying throughout the interview. By the close, it was all I could do to croak, pathetically: "Tommy Brennan, thank you very much."
So politicians from parties other than the Tories - frankly, those within the party too - experience a range of emotions about the Manchester meltdown. Genuine human sympathy mingles with schadenfreude. But also a chill thought: "Me next?"
A little cameo is performed before First Minister's Questions. The FM and other party leaders are filmed walking purposefully up the glass corridor towards the chamber.
They project an appearance of calm, thoughtful determination.
Today, Nicola Sturgeon duly walked the walk, pausing briefly to cough once. In itself, unremarkable. Except that coughing now has a new resonance when linked to political leadership.
She smiled, gently, as the watching wicked media inquired solicitously after her vocal chords.
But you can bet that Team Sturgeon is carefully planning the counter-measures which may be required, should the FM succumb to the dreaded lurgy or anything close.
Bet they are also checking conference accreditation too, looking for anyone who might just possibly be a comedian with a store of P45 documents.
There was but a single reference to the Manchester meltdown in the chamber. Ms Sturgeon compared it to an episode of Fawlty Towers.
Other than that, the exchanges were mostly solid and substantive. For the Tories, Ruth Davidson pursued the deeply serious issue of guidance to local authorities and schools about knives carried by pupils.
In truth, though, it was hard to discern precisely where the exchange was leading. Ms Davidson understandably sought assurances that efforts were under way to contain the problem, as far as possible.
Contentious issues
Ms Sturgeon offered such assurances, while noting that local guidance was down to local councils, under central prompting.
For the Liberal Democrats, Willie Rennie opted for a topic which he has made his own, the provision of mental health care. Again, the exchanges were solemn, reflecting the fact that the topic is undeniably serious.
With regard to both these discourses, I would say this is Parliament working properly. At the very minimum, the FM has been confronted over two contentious issues - which will result in a review by officials of action in these two fields.
On the day, though, perhaps the most intriguing questions came, not for the first time, from Labour's Alex Rowley.
It is said that, to forestall a coughing fit, one should speak slowly and softly. Mr Rowley has undoubtedly taken that advice.
But his interventions can be effective. Today he tackled the controversy attending the roll-out of Universal Credit before narrowing the focus to demand that the Scottish government compensate cancer sufferers who have lost cash from cuts to Employment Support Allowance.
Appeal to Labour
In response, Nicola Sturgeon voiced sympathy over the particular case and anger over the general topic of benefit cuts. Spending constraint which, UK ministers insist, is needed in order to tackle Britain's budget deficit.
However, the FM contrived, rather forcefully, to raise two related topics. Firstly, the point that savings from benefits cuts accrue solely to the Treasury, meaning that any Scottish mitigation must come from other parts of the limited Holyrood budget.
Secondly, she issued an appeal to Labour to back the full devolution of social security benefits to the Scottish Parliament.
This, of course, placed the discourse in the context of two continuing broad themes. One, the forthcoming Scottish Budget (which follows upon the UK version). And, two, the small matter of enhanced Scottish self-government and/or independence.
Expect more on both at the SNP conference, starting on Sunday. Bring your own throat pastilles.