Wild animals circus ban passes first Holyrood vote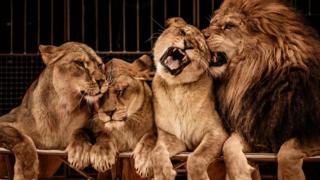 Legislation to ban the use of wild animals in travelling circuses has passed the first hurdle at Holyrood.
MSPs unanimously signed off the general principles of the ban, which would be the first of its kind in the UK.
Environment Secretary Roseanna Cunningham said using animals in this manner was "morally objectionable".
MSPs raised a series of issues with the bill, including a lack of definitions, but voted it through to allow amendments at committee stage.
The Wild Animals in Travelling Circuses (Scotland) Bill aims to bolster animal protection by barring any use of wild animals in travelling shows.
It has drawn criticism from circus leaders, who told MSPs that a law based on the proposed ethical grounds "will eventually close your zoos".
However, a public consultation found widespread support for a ban, something Ms Cunningham referred to in the chamber.
She said: "Most people now consider it outdated and morally wrong to make wild animals perform tricks that they would not perform naturally or to display them in an unnatural environment simply to entertain the viewing public.
"This is animals as entertainment commodity rather than as sentient beings."
'Paradise for lawyers'
The Conservatives and Labour both backed the proposals, but raised concerns about the bill's definition of a wild animal and claimed there was no definition of what a circus was.
Conservative MSP Donald Cameron said that "strangely for a bill all about circuses, the bill chooses not to define the word circus". His Tory colleague Finlay Carson said the bill as drafted "would be a paradise for lawyers".
And Labour's David Stewart said that while the move overall was "the right direction" for animal welfare, a definition of circuses should be "included in the face of the bill".
Holyrood's environment committee warned in its report on the bill that the legislation in its current form is "at risk of not fully addressing the issues it has been proposed to cover and capturing animal performances it had not been intended to".
But Ms Cunningham insisted that concerns over definitions were "unfounded", saying: "The bill before you will not stop the use of domestic animals in travelling circuses such as dogs and horses or the use of wild animals in displays in static circuses, zoos or at public galleries.
"Penguin parades at zoos, birds of prey demonstrations at fairs and reindeer displays will not be affected."
The bill will now move to committee stage, where amendments could be proposed, before a final debate and set of votes in the Holyrood chamber before it becomes law.