Scotland's taxing issues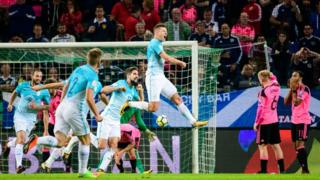 Nicola Sturgeon's verdict? "We are just not good enough yet". But she was adamant that the contest continues, and that the level of support will be sustained.
The dream, to borrow a phrase deployed by her predecessor, will never die.
Can't fool you, eh? She was, of course, talking about Scotland's footballing performance in Slovenia. Ms Sturgeon is not normally associated with footballing passion. If pushed, she supports Ayr United.
But this is different. This is about Scottish pride. And that pride has been severely dented by our failure, yet again, to qualify for the World Cup.
You'd think we'd have got used to it by now. We didn't qualify for the last World Cup either. Nor the one before that. Nor the European Championship over a comparable timetable.
Come to think of it, we haven't competed as a nation in the big league since 1998. Just before devolution.
Is that it, then? Should we blame Holyrood? Ignore the playing performance. Forget the boss. Set to one side his claim that we may be genetically predisposed towards failure.
Let's put the blame where it truly lies. With our MSPs. Listen, that may be daft. Ok, it is daft. But in moments of despair one looks for any answer, any explanation.
(For the avoidance of any doubt, the foregoing is intended to be grim humour.)
Me, I think we lost out at Hampden when we failed, ever so narrowly, to defeat England, owing to a late goal. Top tip. Next time, when under similar pressure, hump the ball into the stand.
Ach, Brian, enough. Get over it. The lads tried their level best. Back to the SNP conference.
And the topic of tax. Where might the Scottish government head on that issue?
The finance secretary Derek Mackay set out the options in his conference address. But, with deft mischief, he has also appealed beyond the conference. To other parties, indeed.
He has invited his rivals to submit their proposals on taxation, following the principle that Holyrood is a parliament of minorities.
In reality, of course, he wants to make them tone down their opposition rhetoric, and address instead the choices he confronts.
These choices are economic - but also political. Mr Mackay - and Ms Sturgeon - have the Tories on one hand demanding that Scottish taxation should be no higher than the comparable take in England.
Top rate tax
On the other hand, they have Labour, perhaps defaulting more to the Left in their leadership contest, urging an increase in taxation in order, they argue, to counter austerity.
Nicola Sturgeon told me in an interview that she would seek to pursue a balanced approach. Yes, public spending had to be financed - including the resources upon which business depended. But tax increases had to be constrained, especially for those who were already struggling.
The SNP manifesto promised no increase in the basic rate over the lifetime of this parliament. I do not see the first minister departing from that promise, despite her noting that her manifesto did not win majority support and thus requires compromise.
This particular pledge was too central, too salient. Plus the Scottish government has been examining the impact of increasing the top rate: the added take versus the prospect of constructive avoidance.
'Tough call'
I would not be at all surprised if the focus of the government's examination also included tax bands, rather than purely rates.
After all, Holyrood last year created a differential on bands, meaning that you enter the higher rate on slightly lower income than you do in England.
Might they go further on that this year? Might they look at other bands too? At the starting points for paying the various rates of tax, rather than simply the rates themselves. I think they might.
However, it is a tough call. Mr Mackay stressed in his speech the substantial elements of tax power which remain in Westminster hands.
Thus simultaneously noting the constraints he faces in this coming decision - and urging further powers for Holyrood.