Rail fund allocation leaves £600m gap, says transport minister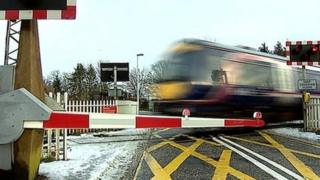 The Treasury has announced rail funding for Scotland that Holyrood ministers say will leave them with a large shortfall.
More than £3.6bn is to be allocated for repairs and improvements to track, signalling and stations in Scotland over five years from 2019.
The Scottish government said that was £600m less than needed and would result in serious damage to rail projects.
The UK government said it was a "generous settlement".
It added that the money could be topped up with additional funds coming to Scotland as a result of UK investment in the high speed rail project HS2.
It also said Holyrood would have more decision making power on rail spending.
'Future success'
The chief secretary to the Treasury, Elizabeth Truss said the funding was "a prime example of how Scotland benefits from the UK's broad shoulders.
"Our record investment for railways across the UK means a settlement for Scotland that could improve the entire network," she said.
"We are backing Scotland for its future success and it's now up to the Scottish government to ensure maximum benefit for the public."
In response, Scotland's Transport Minister Humza Yousaf said: "This £600m shortfall will do serious damage to Scotland's railways and our future enhancement projects.
"The Scottish government has taken a constructive approach simply requesting the same funding we have received previously accounting for inflation.
"We want to continue to invest in improving our rail network and services to meet future demands, but the changes to be introduced by the UK government are putting at risk our ability to do so in full and this will have a massive impact".
Projects that may have to be rescheduled include improvements to Glasgow Central Station, the Aberdeen to Inverness line and cross-border rail routes.
The reopening of stations at Reston in the Borders and East Linton in East Lothian may also have to be put off.
Scotland has been attracting more than 11% of UK rail funds based on the extent of the network in Scotland.
Financial clout
The Scottish government said that was now being reduced because the Treasury had decided to switch to a calculation using the Barnett formula.
A UK government source said Scotland's rail funding was higher than its population share and that the Treasury did not recognise the 11% figure as an agreed settlement.
He said Holyrood now had much more financial clout to fund its own priorities.
The source added that the Scottish government's argument ignored that the Treasury had taken on the burden of historic rail debt.
Conservative MSP Dean Lockhart said: "The SNP government's complaints are entirely predictable.
"Rather than wheeling out the same old fake grievance, Humza Yousaf should apply himself to sorting out ScotRail and backing hard pressed commuters in Scotland."
Announcement postponed
The change coincides with Network Rail's traditional borrowing facility being replaced with UK government grant funding.
This comes after Network Rail was reclassified for accounting purposes from a not-for-profit company to an arms-length government body.
Friday is the deadline for Scottish ministers to announce what railway funding will be available in Scotland 2019-2024.
But Mr Yousaf has decided to postpone his announcement because Scottish ministers are unhappy with the Treasury's allocation.
"I will continue to press the UK government for a fair deal for Scotland on funding for railway improvements" he said.
Level of funding
The minister said he would be seeking cross-party support in the Scottish Parliament to demand additional funding from the UK government.
On Wednesday, a spokesperson for the Treasury said it was still "discussing the appropriate level of funding with the Scottish government".
Within 24 hours it had announced the allocation.
The UK Transport Secretary Chris Grayling has earmarked £47.9bn for the rail network in England and Wales.
Funding for rail infrastructure is determined by the UK government in consultation with the rail regulator.