Call for review of Scots public infrastructure financing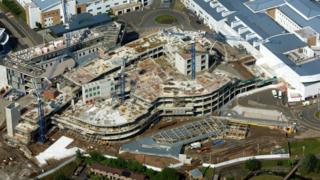 A pair of economists have called for a review of Scotland's public infrastructure financing system.
Jim and Margaret Cuthbert said there were "serious issues" with transparency and the long-term sustainability of the Scottish Futures Trust.
Their report was commissioned by Scottish Labour, who called for a "root and branch review" of the system.
government insisted the Scottish Futures Trust delivers value for money and is "fully transparent".
The Scottish Futures Trust (SFT) is an arms-length company which was set up by the Scottish government after the SNP first came to power in 2007, to "deliver value for money across public sector infrastructure investment".
It was part of the government's bid to replace private financing models like PFI with a non-profit distributing system (NPD). This was designed to cap excessive profits for private firms from public infrastructure projects like roads, schools and hospitals.
'Worrying indications'
However, Mr and Mrs Cuthbert have questioned whether the body is working as intended, saying its role has grown in intervening years without much in the way of real scrutiny.
In their report, the couple said they had found it difficult to obtain information on the SFT's five regional hubs as they are "outwith the scope of freedom of information" legislation.
They concluded that "it is very difficult to tell whether SFT is delivering optimal value for money...but there are worrying indications that it is not".
And they said there was "significant danger that local authorities may over-stretch themselves on the continuing payments arising from SFT projects, particularly given the current uncertain climate for the public finances".
Mr Cuthbert, a former chief statistician at the Scottish Office, said: "Our research indicates a number of serious issues about hub and SFT activities, including lack of transparency, potential adverse effects on industrial structure, and worries about long-term financial sustainability.
"More generally, what the report indicates is the type of problem which can occur when an organisation like the SFT grows incrementally, without adequate external scrutiny and strategic direction.
"The time is now ripe for a thorough review of SFT purpose and operations."
Mrs Cuthbert added that the Scottish economy was facing "major challenges", and questioned whether the structure of the SFT into regional hubs "provides a good environment for encouraging organic growth in the economy".
She said the hub approach typically limited small and medium-sized firms to the role of subcontractors to large private sector firms, "most of which are headquartered outside Scotland".
Scottish Labour, which commissioned the report, said it was time for an "independent root and branch review" of how the SFT operates.
Economy spokeswoman Jackie Baillie said: "The current approach is cloaked in secrecy, but we know there are serious questions about future funding. As it stands it looks like the government has maxed out the credit card without knowing if it can afford the repayments."
The SNP hit back, with MSP Ivan McKee saying that unless Ms Baillie was "willing to make a full apology for the dreadful mess Labour made of the public finances with their disastrous PFI contracts, no-one will listen to a word they say".
'Fully transparent'
A spokeswoman for the Scottish government noted a report from Holyrood's finance committee in 2016 which concluded that while improvements could be made, the SFT had "helped to improve the efficiency and effectiveness of infrastructure investment and use in Scotland leading to better value for money".
She said: "SFT delivered £146m of savings and benefits last year. Since being established, it has achieved a total of £923.7m in savings and benefits.
"The NPD/hub programme is fully transparent and NPD has received a clean bill of health from Audit Scotland.
"Projects worth around £2.4bn have been progressed to date through NPD, creating and maintaining jobs and enhancing our infrastructure. The NPD and hub models enable investment in public projects in Scotland to be brought forward more quickly than would otherwise be available through our capital allocation and limited borrowing powers."