'No proceedings' against Lib Dem MSP over election case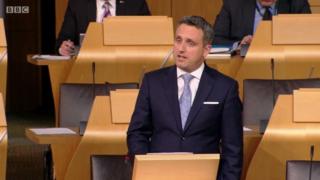 Prosecutors have dropped a case against Lib Dem MSP Alex Cole-Hamilton over claims he had broken electoral law.
Mr Cole-Hamilton was accused of breaching the legal spending cap and filing incorrect election returns in the Holyrood vote in June 2016.
He won the seat of Edinburgh Western from the SNP in the vote, but was reported to prosecutors in June 2017.
However the Crown Office said that after "careful consideration", there would be "no proceedings at this time".
The Lib Dems maintained throughout the investigation that they were "fully satisfied that all election arrangements and spending was done in accordance with the law".
Mr Cole-Hamilton was the party's campaign director for the general election earlier this year.
He said he "always knew" that he would have no case to answer over the allegations, saying: "While this has been a long process, I have sought to fully co-operate with the investigation at every stage.
"Throughout all of this, my focus has never drifted from my efforts to represent the communities of West Edinburgh to the best of my ability. I love my job and work hard at it.
"I'm glad this matter is closed and I'm grateful to police and the fiscal service for their dedication in pursuit of the truth both in this case and in all that they do."