Brexit viewed from Brussels: The Irish question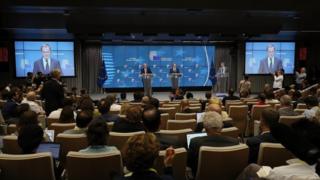 The night of the Brexit referendum vote, British officials were warming up a party with a playlist of songs about remaining and working together. It didn't stay warm for long.
By contrast, the Irish had done more homework, campaigning among Irish people with a vote in Britain, and Dublin's officials realised the vote would be close run.
That's the contrasting backdrop that opens a new book on Brexit and Ireland, by Tony Connolly, the Ireland editor of broadcaster RTE.
Drawing on insights from Ireland's politicians, diplomats and officials, it reflects on the exposure of Ireland's economy to trade with and across Britain. The mushroom growers were among the first to see the danger of agricultural tariffs and delays at customs.
The cheddar cheese makers soon realised that their product is mainly sold in the UK, and it would hurt to have dairy tariffs imposed. Likewise, it doesn't help to have refrigerated goods delayed.
The beef farmers remain alarmed. Forty-four years of integration of the British and Irish markets has built up a sale of 275,000 tonnes and 2.4 billion euros-worth of Irish beef in Britain.
And for all those who think executives at Volkswagen and BMW will strong-arm Angela Merkel into a generous trade deal with the UK, to protect their British markets, it's pointed out that the Irish beef farmers can also be a formidable lobbying group.
What if, they ask: what if there are customs delays, and tariffs? What if the UK does a trade deal with the US, which means British markets buy cheaper, more efficiently produced beef, using US growth hormones?
And how can they be sure they won't enter the Irish and European market across the Northern Irish border, unless there are effective customs posts and checks?
The brewers of Guinness have calculated the effect of even a brief delay as the black stuff heads from the republic to the north for bottling, and then back again. That adds well over a million pounds to the cost base.
Unshackled from Brussels
I've spent this week in Brussels, listening out for the viewpoints of the people on the other side of the negotiating table - the 27 member states being represented by chief EU negotiator, Michel Barnier.
Here, as in Britain, the Brexit debate remains dominated by the "what if..." questions, so long as trade relationships are not only unclear but completely off the negotiating table.
It means that businesses can warn about risks, hypothetically. And because so little is clear yet, supporters of Brexit can bat back a response that everything will be just fine, once British negotiators are unshackled from Brussels to embrace opportunities elsewhere.
But that's not good enough for those taking investment decisions.
In the finance sector, the warnings are turning to moves of, so far, smallish numbers of people out of the UK, to offices in Europe's financial centres, where they are under the EU regulators' gaze. Goldman Sachs has hinted at a move from London to Frankfurt.
I've also heard from the American Chamber of Commerce in Brussels that its members' investment decisions are being put on hold.
Its director, Susan Danger, cites figures that show 60% of America's overseas investment went to the EU in 2016, and quarter of that went to the UK, mainly because it is the base from which big US corporations can serve and supply their Europe-wide customer base.
Other figures from EY show that, a long way behind London, Scotland is the most successful part of the UK at attracting such foreign direct investment. It brings jobs, generates exports and imports expertise with which to make productivity gains beyond the inward investing company.
AmCham is as clear as any business grouping: they want open borders, a single market, the ability to recruit and move the talent they need within Europe, and a transition deal that gives members a softish landing in the new relationships (as if Donald Trump's trade and tax policies weren't enough of a white-knuckle ride for big multinationals).
Ferocious lobbying
There are opportunities there for Ireland to draw some business from Britain after Brexit.
Already attractive for its low corporate tax rate, it can grow as the only English-speaking bridgehead from which American executives can grow subsidiaries into the European market.
As Tony Connolly jokes, his chapter on opportunities is a short one.
Much more in Ireland's sights is its exposure to trade with and across Britain, and it stands to have the only land border between the UK and the European Union - a land border which has been bloodily contested in recent decades, with a peace process still seen as fragile.
With ferocious lobbying of the other 26 members of the EU, other than the UK, the Irish made sure that their concerns were in the top three priorities on which Europe's negotiators are determined to get a deal before moving on to trade.
While discussions of the other two items - the divorce bill and guarantees of EU citizens' rights - are making some progress, a solution for Ireland remains hard to pin down.
EU negotiators are keen to ensure that it is about a political and social agreement, but not an economic one.
Reaching an accommodation on the economy of the whole island of Ireland is getting into future trade relations.
That's firmly off-limits for now, and one thing Michel Barnier and his team want to avoid in Ireland, it is a precedent the British could use to ease itself into a low-impact departure from the single market.
If Britain is out of the single market and out of the customs union, no-one has yet seen a convincing way to avoid a hard border around Northern Ireland's six counties.
Hopes for techie solutions, of a virtual passport for goods, were long since sunk in Dublin harbour.
'Hooked on brinkmanship'
Soon after the referendum shock, the Irish tried to get alongside the British, using the close relations that have built up at official level.
But as Connolly chronicles, the British didn't have solutions, and other Europeans required Ireland to distance itself. It pivoted significantly away from the UK, to align itself with the other 26 EU members on its side of the negotiating table.
The message is clear: Britain made this Brexit mess, so it has to devise a way of clearing it up, and it can't expect much help in doing so.
Phil Hogan, the Irish commissioner in Brussels, with responsibility for agriculture and rural development across the continent, was in particularly blunt form when he gave a speech welcoming the launch of the new book.
"Only serious engagement and realism can deliver an agreement by December," he said. "What becomes more obvious day to day is that the Brexiteers are hooked on brinkmanship, and have been since the beginning. Unfortunately, their only approach is the tough guy approach."
Monsieur Barnier and the commission may not have been that friendly to the British negotiators, but as one who sits at its top table, Mr Hogan seems to have licence to tell it without any diplomatic varnish.
"No matter what Brussels says or does, no matter what business in the EU says or does, no matter how many companies announce plans to move workers from the UK to new European Union headquarters, the hardliners cannot get it out of their heads that if they bully their way towards the wire, then the Union's nerve will crack," he said.
"They need to get it into their heads that this is not the way the European Union works."
Strings attached
On Northern Ireland, he was a lot more negative than the official line. "It's painfully clear that the UK government is not going to propose workable solutions for the benefit of the island of Ireland.
"Indeed, the low priority afforded to Northern Ireland by London is very disheartening. We hear regularly about the need for a frictionless border, but the only policy positions outlined thus far would achieve precisely the exact opposite. A hard Brexit would hit cross border trade worst of all."
So there's a challenge of getting to a deal on Ireland - as well as Britain's divorce bill and rights of EU citizens - before future relations can be addressed.
The Irish border deal will have to be conditional on the outcome of trade negotiations and whether there is a customs union or not (as things stand, the British government doesn't want one, because of the strings attached).
Just one of the risks for the Dublin government is that a vaguely-worded agreement by December to keep the border open will see its interests submerged by the weight of other countries' trading concerns.