Lawyer slams Holyrood sexual harassment 'silence'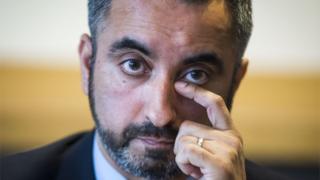 A lawyer has criticised the "abject silence" of male MSPs over claims that women have been sexually harassed at the Scottish Parliament.
Aamer Anwar said he had been told of a "catalogue of abuse" ranging from cyberstalking to physical assault.
He said much of the behaviour would have seen those responsible arrested if it had happened on a public street.
But he said there had been silence from "pretty much all the male politicians at Holyrood" over the issue.
Mr Anwar told the Sunday Herald at the weekend that he had spoken to several individuals at Holyrood, from interns and researchers to MSPs, who had been subjected to sexual harassment.
And the Daily Record newspaper said it had been told of three "creepy" male MSPs who have been accused of intimidating behaviour and making unwanted advances towards women.
It comes after some MPs at Westminster were accused of intimidating or propositioning young women inappropriately.
Speaking to the BBC's Good Morning Scotland programme on Monday, Mr Anwar claimed there was "rank hypocrisy" over the issue at Holyrood, where he said people had "spoken out about Weinstein and Westminster", but were failing to tackle sexual harassment in their own backyard.
He added: "What stands out for me is, if one notes the newspaper reports and the social media from the last two days, there is abject silence from pretty much all the male politicians on this issue at Holyrood.
"We should ask the question why is that? I think they know that this has been going on... and they haven't done anything about it."
'Nothing new'
Mr Anwar said allegations of sexual harassment in politics were "nothing new", but that women were being more open about their experiences in the wake of the Harvey Weinstein scandal.
He said: "A lot of the behaviour (at Holyrood), if it happened on a public street, if it happened in a pub, happened in a restaurant, these individuals would have been arrested, they would be prosecuted and they would probably appear on the sex offenders register.
"Yet for some reason these people, because they are male politicians, they think they can get away with this behaviour, and they are abusing their power."
The Scottish Parliament's former presiding officer, Tricia Marwick, has said that no complaints of sexual harassment were brought to her attention during her five years in the role.
But Mr Anwar said this was because victims did not have confidence in the procedures that were in place, and were scared of being "treated as though they are troublemakers".
He called for the Scottish Parliament and the country's political parties to improve the way they deal with the issue, adding: "It is unacceptable in the 21st century - things are supposed to have changed.
"These are politicians in Scotland and they are supposed to be held up as an example."
'Deaf ear'
The former Conservative MSP, Mary Scanlon, said she had experienced sexual harassment during her 16 years in the Scottish Parliament.
She said: "Throughout my life, and including being an MSP, comments are made and you don't want to be difficult, you don't want to be too precious, you don't want to be too politically correct.
"I think I probably turned a deaf ear and a blind eye to things that maybe, mildly, or just a wee bit more, upset me. And I just thought that's part and parcel of the job."
Health Secretary Shona Robison told BBC Scotland on Sunday that she was "very concerned" by the reports of harassment, and urged any victims to contact the authorities.
And the Scottish Parliament insisted it had "robust procedures" in place to investigate and deal with any reports of sexual harassment.
A spokesman said: "If any individuals were to witness or experience such behaviour, we would encourage them to report it."