Call for independent inquiry over Holyrood harassment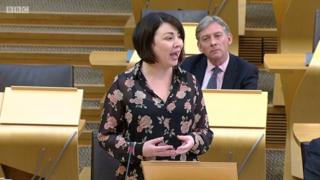 An independent review of the "culture" of the Scottish Parliament must be held if concerns about sexual harassment are to be resolved, a Labour MSP has said.
Monica Lennon said reports about harassment at Holyrood were "sickening but unfortunately not surprising".
First Minister Nicola Sturgeon has asked her top civil servant to review how government approaches the issue.
Her deputy John Swinney told MSPs that "the conduct and behaviour of men" had to change across society.
Representatives from all parties met Holyrood's Presiding Officer Ken Macintosh to discuss how to tackle the problem, agreeing on a "zero tolerance" approach.
Ms Sturgeon added that if the right actions are taken, this could be "a real watershed moment where we see deep-rooted cultural change".
Claims have been made about a "catalogue of abuse" at the Scottish parliament, in the wake of concerns about the behaviour of MPs at Westminster.
The SNP is currently investigating complaints of inappropriate behaviour by two parliamentarians.
Parliamentary authorities have stressed that the number of cases reported to them has been "very low". BBC Scotland understands three complaints have been recorded in the 18 years since devolution.
'Conduct of men'
A topical question was tabled on the matter at Holyrood, which Mr Swinney said he was responding to as the most senior man in the government to underline that it is men who must change their behaviour.
The deputy first minister said: "It is up to men to make these changes, and men must examine their own behaviour. Sexual harassment or abuse in the workplace or anywhere else is completely unacceptable and must stop, just as the underlying attitudes and inequalities that perpetuate it must also stop.
"No-one, staff or member of parliament, woman or man, should ever have to put up with harassment or abuse."
Mr Macintosh and the parliament's chief executive, Sir Paul Grice, issued a statement on Monday saying a dedicated phone line for people to report harassment would be set up and an anonymised survey carried out.
Ms Lennon said moves like this were "well intentioned", but said parliament "must go further" to a full inquiry.
"Unless we understand how difficult it is for women to come forward with complaints for fear that they will not be believed or supported, and recognise that this is a cultural problem that requires a cultural change then we will never fully resolve this," she said.
"Nothing short of an independent review, informed by women's organisations and trade unions is required.
"Any such review should consider the procedures which are used to report and record incidents and the culture of parliament more generally, given for example that the running of parliament is overseen by all-male groups of MSPs."
Mr Swinney noted that it would be "inappropriate" for him as a government minister to comment on the running of parliament, but agreed that it would be a "good idea" for women's groups to be "closely" involved in work.
The education secretary noted that the permanent secretary, Leslie Evans, had agreed to review internal processes in the government on the specific request of the first minister. Mr Swinney added that "it's important that our attitudes change within society".
Ms Sturgeon and Mr Macintosh later held an "urgent meeting" with representatives other parties to discuss the issue.
The presiding officer said the meeting had been "very constructive", saying: "The parties unanimously endorsed a zero tolerance approach to harassment and sexual misconduct in the workplace and we hope this sends a clear and powerful message not only to those working at Holyrood but to wider society."
He subsequently wrote to all building users saying that the dedicated phone line for reporting abuse would be operational before the end of the week, and saying all parties had agreed to proceed with an anonymised survey.
Parliament's diversity and inclusion board is to revisit procedures for reporting and investigating harassment, and the standards committee is to examine the code of conduct for MSPs "to ensure it remains fit for purpose".
'Watershed moment'
Ms Sturgeon told BBC Scotland that "we are at a pivotal moment where we can change this culture for the better".
She said: "I think potentially this could be a real watershed moment where we see deep-rooted cultural change. I've been a woman in politics for 30 years, I know that in politics and other walks of life this is the kind of behaviour that women have felt they just have to put up with.
"And this is a moment I think where we can say no, we don't just have to put up with this. We have the potential now, if we do the right things in the right way, of really changing this culture."
Scottish Conservative leader Ruth Davidson was unable to attend the meeting, but met Mr Macintosh earlier in the day.
She said there had not been evidence of a "widespread problem", but said: "We have got to ensure that anyone who has had an issue feels they are able to come forward and able to report it, so we are able to know about it and able to act."