No police action against Wings Over Scotland blogger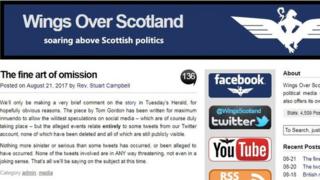 A political blogger who was arrested over allegations of online harassment has been told by police that he will face no further action.
Stuart Campbell, who is behind the Wings over Scotland website, was arrested at his home in Bath in August.
It followed a complaint from a woman in London who claimed she had been harassed by him for two years.
The Metropolitan Police said Mr Campbell had now been "informed that he is released with no further action".
Mr Campbell launched his pro-independence site in 2011, since when it has become the most prominent and widely-read blog on Scottish politics.
A spokesman for the Met said: "Police in Southwark investigated an allegation of online harassment against a woman, aged in her 30s, over the past two years.
"On 18 August a man aged in his 40s was arrested at an address in the Avon and Somerset area on suspicion of harassment and malicious communications.
"He has now been informed that he is released with no further action."
At the time of his arrest, Mr Campbell said the allegations concerned comments made on Twitter, all of which were still publicly visible.
He added: "Nothing more sinister or serious than some tweets has occurred or been alleged to have occurred.
"None of the tweets involved are in ANY way threatening, not even in a joking sense. That's all we'll be saying on the subject at this time."