MSP Monica Lennon claims she was 'groped' by senior male colleague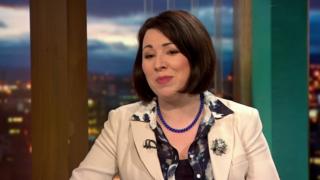 A Labour MSP has said she was sexually assaulted by a senior male colleague at a party.
Monica Lennon told the Sunday Mail that she was groped at a social event in 2013 in front of several witnesses.
She said she made an initial complaint to Scottish Labour but decided not to progress it because she felt she would not be believed.
Labour said it was working to improve the way it deals with sexual harassment complaints and safeguarding issues.
Ms Lennon, 36, told the paper: "It happened at a Labour Party social event in 2013, before I was an MSP. It was a private function, a room full of people.
"A man, who was a senior figure in the party, touched me in a manner that some would say is 'handsy'. He was sitting next to me when he groped me, in full view of other people.
"I don't want to go into the full details but he touched my body, in an intimate way, without invitation or permission. This shouldn't happen to anyone.
"It's possible at least half a dozen people saw exactly what happened.
"One man, who at the time was a Labour politician, joked to everyone in earshot, 'That's your fault for coming over here and getting him all excited'."
Ms Lennon, who was a South Lanarkshire councillor at the time, said the experience left her feeling humiliated, though she knew she was not at fault.
The MSP added: "A few days later I ran into another man who had seen what happened and he made a jokey reference to it.
"The underlying message was clear, the whole thing was to be treated as a joke. I felt disappointed, hurt, embarrassed and let down."
Another newspaper, the Sunday Post, reports that the SNP MSP, Willie Coffey was reported to Holyrood authorities six months ago after a civil servant complained about "inappropriate language" and "unsolicited attention".
The Kilmarnock and Irvine Valley MSP denies the allegation and says he does not recognise the claims about his behaviour.
Ms Lennon is the most senior UK politician to say she has been the victim of sexual assault since the harassment scandal began to emerge in the last fortnight.
She is the third member of Labour to claim she was not given enough support by the party.
Labour activist Bex Bailey said she was raped at a party event and a senior Labour official discouraged her from reporting the attack.
Ava Etemadzadeh, another Labour activist, claimed MP Kelvin Hopkins hugged her inappropriately after a student event in 2014. Mr Hopkins denies wrongdoing.
Ms Lennon, who was elected to Holyrood in 2016, said she phoned Scottish Labour to report her alleged attacker's behaviour some time later.
She added: "I was asked if I wanted to make an official written complaint. I just felt like that wasn't really an option. I didn't feel I would be believed."
A Labour party spokesman said: "The party takes all complaints of sexual harassment, abuse and discrimination extremely seriously.
"We ask that anyone with a complaint comes forward so that allegations can be properly investigated. When evidence of misconduct comes to light, all appropriate disciplinary action is taken in line with the party's rule book and procedures.
"The party has been working with its affiliates to develop procedures specifically designed to deal with complaints of sexual harassment and safeguarding issues in order to improve internal processes and make it easier to report concerns."