Scottish Parliament packages 'not suspicious'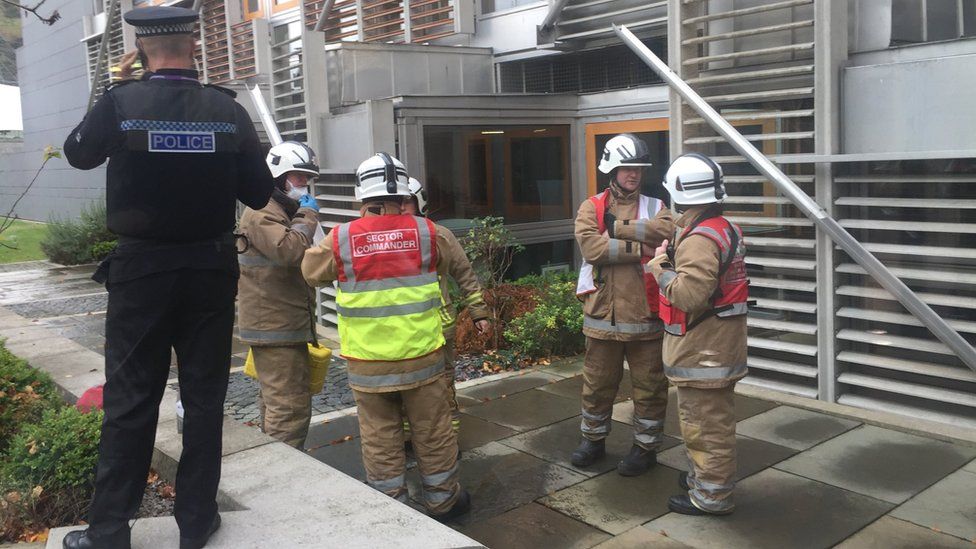 Four packages that sparked a security alert at the Scottish Parliament were not suspicious, police have said.
Part of the building was evacuated after the packages, one of which was said to contain white powder, were sent to the offices of four Tory MSPs.
Police and firefighters were called, but business elsewhere in the parliament continued as normal.
Police said there were no suspicious circumstances surrounding the incident, and no crime had been committed.
The MSP block, where politicians have their offices, has now reopened.
It is understood the packages were sent to Tory MSPs Liz Smith, Jamie Halcro-Johnston, Edward Mountain and Donald Cameron.
Mr Mountain told BBC Scotland that the package he received appeared to have been an invitation to the Inverness Courier newspaper's 200th anniversary celebration.
He did not notice anything unusual when he opened his envelope.
But he was later told that a member of Mr Halcro-Johnston's staff had his hands covered in white powder when he opened a similar package.
The male staff member was examined by medics as a precaution.
A spokeswoman for Police Scotland confirmed that the alarm had been raised at about 11:35 following a report of a suspicious package having been delivered.
"The MSP block was evacuated as a precaution, but inquiries have concluded there are no suspicious circumstances surrounding this incident and no crime has been committed," she said.
"Normal service at the Scottish Parliament has resumed and the block is once again opened."