Independent review over Scots EU farm funding row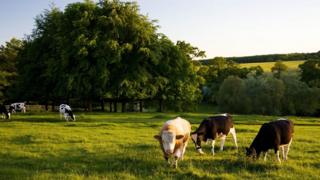 An independent review of how some EU farm subsidies are distributed is to be held to resolve a row between the Scottish and UK governments.
Scottish minister Fergus Ewing had accused the Treasury of a "great rural robbery" of £160m in funds.
The Scottish Conservatives have also campaigned for additional "convergence uplift" Common Agricultural Policy cash to be given to Scottish farmers.
Mr Ewing met his UK counterpart Michael Gove on Monday and agreed to a review.
The remit, timescales, process and personnel of the independent review is to be decided by the end of the year.
The long-running row dates back to 2013, when the EU announced moves to redistribute CAP payments more fairly based on the basis of average Euros per hectare.
The Scottish government contends that England, Wales and Northern Ireland were all above the qualifying threshold of 90% of the EU average, but Scotland sitting at 45% meant the UK was eligible for a £190m "convergence uplift" in funding.
'Much-needed progress'
Ministers say it was clear that the extra cash was intended for Scottish farmers, but the Treasury chose to distribute the funds across the UK with only about £30m coming north of the border.
Mr Ewing, who is Scottish environment secretary, previously told MSPs that "without Scotland, the UK would not have received an extra penny".
After a meeting with Mr Gove, he said he was "pleased that we reached agreement on a way forward on this longstanding issue".
However, he warned that while "much-needed progress" had been made, a resolution was still "some way off".
The National Farmer's Union Scotland also welcomed the "commitment to a proper, independent review of how funding is allocated".
President Andrew McCornick said the "long-running debate" was "critical to the interests of Scottish agriculture".