Politicians to address Arctic summit in Edinburgh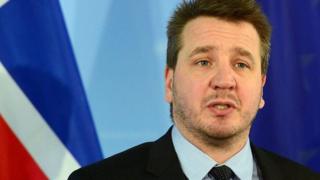 Cabinet ministers from Iceland, Greenland and the Faroe Islands are to visit Scotland for a summit on the challenges facing northern nations.
The politicians will be speaking at Scotland's first Arctic Circle Forum, a three-day conference in Edinburgh.
It will focus on international experiences of helping remote and island communities become successful and resilient.
The conference runs from 19-21 November.
It will be attended by Iceland's minister for foreign affairs Gudlaugur Thor Thordarson, Greenland's minister for education, culture, research and church Doris Jakobsen Jensen and Faroe Islands' minister of foreign affairs and trade Poul Michelsen.
'Innovation hotbed'
First Minister Nicola Sturgeon will open the event, which will also be addressed by the chairman of the UK Committee on Climate Change, Lord Deben, and Scottish External Affairs Secretary Fiona Hyslop.
Ms Hyslop said: "In the face of common global challenges, it is all the more important Scotland forms close relationships with like-minded nations, demonstrating leadership on the key issues we face.
"That is why I am delighted Scotland will host the Arctic Circle Forum.
"From Iceland's tourism success story to Scotland's leading expertise in low-carbon energy solutions, there are huge benefits to be had by sharing our experiences, learning from one another and developing new partnerships."
She added: "How we empower and safeguard remote and island communities is a shared challenge across the wider Arctic region.
"With experts from the worlds of academia and business, alongside representatives from governments, corporations and NGOs, the forum is sure to be a hotbed for innovation and ideas."
Arctic Circle chairman Ólafur Ragnar Grímsson said: "Scotland has formed policies in areas which are of great importance to us in the Arctic, including climate change, clean energy, new forms of economic activity, shipping and tourism.
"Therefore, I very much look forward to participating in the forum in Edinburgh, and furthering the Arctic Circle's links and co-operation with the Scottish government."