Salmond interviews Puigdemont on RT show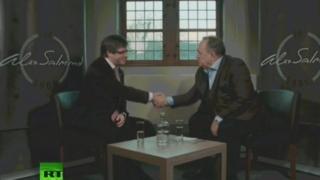 Alex Salmond has interviewed the deposed Catalan president, Carles Puigdemont, on the first episode of his show on Russian broadcaster RT.
Mr Salmond spoke to Mr Puigdemont at an undisclosed location in Belgium, where he fled when the Spanish authorities filed criminal charges against him.
Mr Puigdemont told Mr Salmond that "democracy will prevail" in Catalonia, and that "we will win".
And he insisted that a "huge majority in Catalonia" want change.
It was announced last week that Mr Salmond, the former Scottish first minister and SNP leader, would be hosting a weekly show on RT, which has been described as a propaganda outlet for Vladimir Putin's government.
The matter was raised in the Holyrood chamber, with Deputy First Minister John Swinney saying there was a "stinking reek of hypocrisy" from opposition parties after both the Tory and Lib Dem leaders criticised Mr Salmond.
Mr Salmond faced widespread criticism for the move, with First Minister Nicola Sturgeon saying she would have advised him against broadcasting on RT if she had been asked.
It has also been reported that SNP ministers will not appear on the Alex Salmond Show, or any other RT programmes.
But Mr Salmond insists that he has full editorial control over the programme, and has urged viewers to make up their own minds over whether it is Russian propaganda.
He was joined on the first episode, which was broadcast early on Thursday morning and will be repeated at 18:30 and 23:30 on Thursday, by fellow former SNP MP Tasmina Ahmed-Sheikh, who is part of Mr Salmond's Slainte Media production company.
Ms Ahmed-Sheikh interviewed Conservative MP Crispin Blunt about LGBT rights, with Labour peer Baroness Helena Kennedy also appearing on the show.
Mr Salmond opened the programme by promising to speak to "people of ideas and answers", and said he wanted to find out about the personalities behind public figures.
He then recited Robert Burns' famous line: "O wad some power the giftie gie us. To see oursels as ithers see us."
But it was Mr Puigdemont who was the star guest, with the former president telling Mr Salmond that there was an "an intellectual incapacity" on the part of the Spanish government "to admit the possibility, the real possibility, that Spain could be different in future".
'We will win'
He added: "The message is to be confident, passionate and resilient because we will win. We will succeed. Finally, democracy will prevail."
The Madrid government - which opposed October's independence referendum taking place - dissolved the regional Catalan parliament after it voted in favour of a unilateral declaration of independence, and called snap elections for December.
Several members of the Catalan government were detained over allegations that the declaration was an act of rebellion and sedition.
But Mr Puigdemont fled to Belgium, where he is currently on bail while a judge decides whether or not to execute an EU warrant for his arrest that was issued by a Spanish judge earlier this month.
Mr Salmond's decision to host his show on the Russian network has been a matter of fierce debate at Holyrood.
In a meeting with Holyrood's Europe committee on Thursday, Tiina Intelmann, the Estonian ambassador to the UK, said her government viewed RT as "an arm of Kremlin propaganda".
This was later raised by Lib Dem leader Willie Rennie in the main chamber, who questioned whether it should impact on Mr Salmond's bid to take over the Johnston Press newspaper group.
He said: "Newspaper regulation is devolved, so it is reasonable to ask if Alex Salmond would be a fit and proper person to own The Scotsman when he is being paid by President Putin's propaganda channel.
"This is the TV channel that seeks to undermine Western democracy and ignores human rights abuses at home.
"It should turn our stomachs to know that a former first minister of this country is giving it credibility and legitimacy. Scotland's reputation abroad has been damaged."
Deputy First Minister John Swinney hit back, saying Mr Salmond was "not currently an elected politician" and was free to do as he liked.
And he said there was a "stinking reek of hypocrisy" from opposition parties, noting that Lib Dem leader Vince Cable had appeared on RT in 2015.