Budget 2017: Chancellor accused of 'con' over Holyrood funding pledge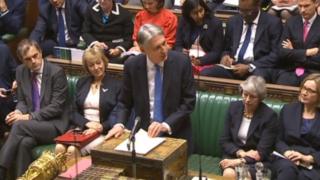 The Scottish government has dismissed the chancellor's pledge of extra funding for Holyrood as a "con".
Philip Hammond said moves in his Autumn Budget would "mean £2bn more for the Scottish government".
But Scotland's finance secretary said Holyrood had been "short changed", and that funds for day to day spending would actually fall.
Ministers have also traded barbs over plans to allow Scotland's police and fire services to claim VAT refunds.
Mr Hammond took aim at "SNP obstinacy" over the issue, while the SNP's Westminster leader Ian Blackford accused the UK government of "vindictiveness and nastiness" for not having made the change sooner.
The disputed funds come in the form of Barnett consequentials, which are Scotland's share of additional spending in England which falls in areas of devolved competence - like health, education and housing.
The £2bn cited by Mr Hammond is spread over the period from the current financial year through to 2020-21, and includes more than £1.1bn in financial transaction funding.
This is capital funding for loan or equity initiatives, like "help to buy" schemes, meaning the government is constrained in how it is spent.
'Strings attached'
Scotland's finance secretary, Derek Mackay - who will unveil his own draft budget in December - said it was "money with strings attached" which could not be spent "directly on frontline public services" and would eventually have to be repaid to the Treasury.
He said the overall deal was "disappointing", telling the BBC's Politics Scotland programme that "it's not a £2bn boost to Scotland, it's a con".
But Scottish Secretary David Mundell told the same programme there would be a "significant increase in Scottish government spending".
On the capital funds, he said the Scottish government could "use that money in innovative ways", saying: "The money is definitely available. It's for the Scottish government to come forward with the mechanisms that allow it to be used.
"Additional money is coming to Scotland and directly will benefit Scotland."
Mr Mackay also claimed the block grant for day to day spending was being cut in real terms, something refuted by the UK government.
The Fraser of Allander Institute, an economic think tank based at the University of Strathclyde, said the extra funding for the resource budget amounted to "around £350m", saying it "remains on track to be squeezed in real terms over the next two years".
Director Graeme Roy said: "The challenge therefore remains for Derek Mackay as to how best to balance the resource budget with major commitments like additional support for the NHS, more money for childcare and public sector pay uplifts all to be paid for."
VAT refund
The other point of conflict between the governments is over VAT for the Scottish police and fire services, after Mr Hammond confirmed they would be eligible for refunds from April 2018.
This brings Police Scotland and the Scottish Fire and Rescue Service into line with their counterparts elsewhere in the UK - but tax paid since the creation of the national forces will not be reimbursed.
The two services pay about £35m a year in VAT - bringing the total bill since they were set up four years ago to £140m.
Scottish ministers have repeatedly called on the UK government to end the "glaring disparity" in the way that VAT affects emergency services across the UK, pointing out that territorial police and fire services in England and Wales already get refunds on their VAT bills.
The UK government says the Scottish government knew of the VAT implications before the police and fire service mergers were approved, but pressed on with them regardless.
In his budget speech, Mr Hammond said he had been persuaded by Scottish Conservative MPs to make the change.
He added: "The SNP knew the rules, they knew the consequences of introducing these bodies, and they ploughed ahead anyway.
"But my Scottish Conservative colleagues have persuaded me that the Scottish people should not lose out just because of the obstinacy of the SNP government."
---
Analysis by Brian Taylor, BBC Scotland political editor
On spending, Mr Hammond trumpeted a "boost" for Scotland in the shape of £2bn extra. He said he had "delivered for Scotland".
In response, Derek Mackay said it was a "con". The money was over four years (the Chancellor never disguised that) - and more than half of the dosh was in the form of financial transactions.
These have caused contention in the past. They are, in essence, loan funds available for private projects such as housing, business or agriculture. They fall, thus, to be repaid.
Scottish ministers readily concede that such funds have proved valuable in the past - although they tend, discreetly, to cite their own deftness in finding useful vehicles. But they say it is cash with strings and it leaves day-to-day spending on the NHS, education and the like facing a real-terms cut.
At which point, Mr Mundell says that the total package going to Scotland will be helpful. At which point…..you get the concept.
---
The chancellor also said progress was being made on city deals for Tay Cities and Stirling, and for a growth deal for Borderlands.
And he said the government would introduce transferable tax history for oil and gas fields in the North Sea - which he described as an "innovative tax policy that will encourage new entrants to bring fresh investment to a basin that still holds up to 20 billion barrels of oil".
Many of the measures announced by Mr Hammond - such as homebuyers no longer having to pay stamp duty for properties of up to £300,000 - will not apply in Scotland, where the tax is devolved and known as Land and Buildings Transaction Tax.
It will be up to the Scottish government in its own forthcoming budget to decide whether to follow the chancellor's lead.
In a lengthy Twitter thread, First Minister Nicola Sturgeon welcomed the announcements on oil and gas, and on VAT.
But she said both were "overdue", and that it was "disappointing and unfair to emergency services" that VAT that had already been paid would not be refunded.
Among the other budget measures which the Treasury said would impact on Scotland were:
A freeze on spirits duty, which it said would give distillers the confidence needed to invest and grow their businesses and encourage new firms to enter the market
Fuel duty will be frozen, with support for islands extended
£3.3m support for Scottish charities
The chancellor said the budget was proof that the Conservative government was "giving power back to the people of Britain and driving prosperity and greater fairness across our United Kingdom".
But he also said that the Office for Budget Responsibility had revised down forecasts for Britain's GDP to 1.5% in 2017, down from the 2% it had previously predicted.
Scottish Labour's new leader, Richard Leonard, said Mr Hammond had "delivered a failing budget, on a failing economy from a failing government".
He added: "They are rudderless and without a plan to grow our economy, help our industries and create the work of the future. This Tory government is a driverless vehicle. This budget is insufficient, inadequate and insincere."